Newcastle's Nomad Digital wins Wi-Fi contract for GWR trains
Rail Wi-Fi company Nomad Digital has won an order to deliver Wi-Fi systems on 93 intercity express new trains for Great Western Railway (GWR).
Nomad has been working with GWR, which operates trains and runs stations in the south west of England and south Wales, since 2013, and the new contract will see it fitting Wi-Fi systems onto 93 new trains currently being built at the Hitachi factory in Newton Aycliffe, County Durham.
The new trains will have Nomad's open connectivity infrastructure built into them, which allows future upgrades to be added on to "futureproof" the technology.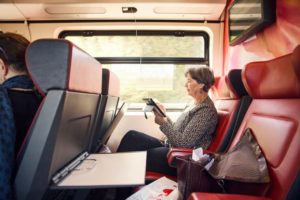 Nomad will also be providing a complete reporting and monitoring solution to GWR, utilising its Fleetview and NDInsight systems which help operators to view the connectivity performance of their fleets in real-time.
Jean-Philippe Tissot, Nomad Digital's chief commercial officer, said: "This marks a significant new project win, which extends our good relationship with GWR.
"We are delighted to be continuing our partnership with a long-standing customer demonstrating the commitment to accompany them into the future through the latest technology to support their ongoing passenger needs."
Nomad, which has offices on Newcastle's Quayside, was bought by Alstom at the end of 2016. The company is a world leader in rail wifi, providing services for most UK train operators as well as a significant number of transport companies overseas.
The company last month said it was on track for growth after a difficult year which had seen turnover decline 22% and losses widen, predominantly due to delays in the closing of contracts with new customers.
The first of the new GWR fleet will come into operation later this year, offering more seats, extra luggage room, faster journeys and improved passenger information.