AccessPay launches BankSense innovation in fintech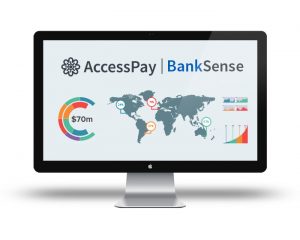 Manchester fintech firm AccessPay has launched a ground-breaking new business area – BankSense, a real-time cash management and analytics tool aimed at global corporations' treasurers.
Offering treasurers one point of access to their entire banking universe, BankSense goes one step further by also giving them the ability to view cash positions in real time, by bank, by region, and legal entity.  Treasurers can then deploy cash moves across accounts to optimise the value on their company's capital.
AccessPay Product Director, James Higgins said: "We are really excited about the launch of BankSense. For too long treasurers of multinationals have had to deal with poor or limited visibility of their company's cash, and been bound by time consuming and labour-intensive processes for reporting on cash positions. BankSense displays to treasurers the real-time position of their cash and allows them to view their positions at a universal, group or business unit level.
"The BankSense dashboard also gives treasurers the essential intelligence they need to optimise their cash, providing full visibility of interest earned and saved – enabling treasurers to measure performance and plan future sweeping strategies."
BankSense was launched at EuroFinance in Barcelona at the end of 2017 and AccessPay was recently named one of the UK's 50 fastest growing technology companies – it's first ranking, at number 49 thanks to 497% growth, on Deloitte's 2017 UK Technology Fast 50.
AccessPay CEO Anish Kapoor commented: "The last 12 months has seen the business develop its offering and really embrace innovation in the fintech sector, ensuring we are best placed to adapt – along with our customers – against a fast-changing regulatory backdrop, as well as innovate and grow our offering with market-challenging solutions.
"Having attracted further investment and bolstered our senior team to include some of the sector's brightest thinkers, we are determined to grow further, especially our BankSense brand and our foothold in the US."
Claire Jolly, head of technology, media and telecommunications at Deloitte in the North West, said of the results: "The North West is once again proving itself to be a key market in the UK technology scene. It's encouraging to see a new regional entrant to this year's list, and for both companies that placed last year to have kept up their high growth rates is a great achievement."