Three businesses selected to make Manchester a smart city
Three new trial projects from companies with big ideas to help make Manchester city centre smarter are being launched through CityVerve – the UK's smart cities demonstrator.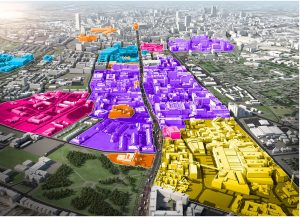 The three companies responded to a market consultation exercise that took place in late 2017.  The consultation provided an opportunity for companies to address current challenges within Manchester using digital solutions and provide new ideas that will be presented, developed and supported as part of CityVerve.
Based in Manchester, CityVerve is a consortium of 20 partners led by Manchester City Council and funded by Innovate UK and the Department for Culture, Media and Sport.  It aims to provide a stepchange to how cities use the internet of things to deliver smarter services and create a real-life blueprint for smart cities worldwide.
Each company submitted an excellent application outlining the potential of their technology through the implementation of small-scale demonstration pilots, which address challenges identified in the council's City Centre Review.  The Review, which took place in 2016, identified a number of areas that Manchester City Council want to improve for citizens, businesses and visitors.
The companies are:
Retail Sensing – a Manchester-based people-counting and data collection provider;
Tracsis – a leading provider of transport survey and data-capture services to the public and private sectors across the UK
Apadmi – an award-winning UK mobile technology provider in Manchester
Retail Sensing is deploying people and traffic-counting sensors along the Oxford Road Corridor, to capture data on density and directional flow of traffic and footfall.  The data collected will help inform future infrastructure plans and city centre management.
Tracsis is deploying people-counting sensors at the access points to Albert Square and four of the city's railway stations – Oxford Road, Deansgate, Piccadilly and Victoria.  The data captured on footfall will support future event-planning and enhance understanding of crowd behaviours.
Apadmi have designed a communications app for reporting environmental problems, which will be trialled by Manchester City Council employees working in the city centre.  The data captured will focus on the usability of the app as a tool for communication.
Results from the three trials are expected in the summer.
Richard Elliott, Head of Policy, Partnerships and Research at Manchester City Council said: "I'd like to congratulate the three successful firms who have been chosen to become recognised CityVerve suppliers.  This is a fantastic platform for them to showcase their business, contribute to the wider CityVerve project and demonstrate how digital innovation can work for Manchester."
Asad Syed, Managing Director for Retail Sensing and Urban Sensing said: "I am delighted we have been selected to implement our IoT smart city technologies within the UK's leading smart city demonstrator CityVerve.  Manchester's CityVerve is a pioneering blueprint for smart cities worldwide and the use of our smart technologies will make a positive difference to the citizens and businesses across the city of Manchester.  We are hugely excited to be part of this innovative and outstanding world changing smart city project."
Chris Jackson, Chief Operating Officer for Tracsis' Traffic and Data Services Division commented: "Tracsis have strong historic relationships with key stakeholders in Manchester and we are incredibly excited to be awarded this opportunity to apply our latest cutting-edge technology to the CityVerve project.
"Our solution utilises an innovative combination of Wi-Fi sensing and video analytics technologies to provide a unique view of the city's pulse and an understanding of how citizens engage with core parts of the city centre.  We can't wait to see the results flowing out from the pilot project."
Marcus Hadfield, Chief Strategy Officer for Apadmi said: "We're always looking for ways to innovate and help organisations make things even better with mobile – this is the perfect opportunity to do it on a city-wide scale, in our hometown.  It's been a fantastic experience so far getting behind the CityVerve initiative and we're just getting started.
"The focus for us with this project is to test how mobile can be used for communicating with citizens, helping them to engage more frequently and closely with their local council.  We're excited to understand if it works as well as we think it will."