Notify Technology raises £500,00 funding for software platform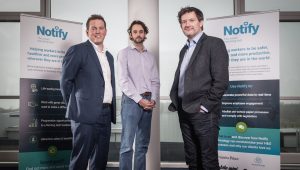 Newcastle- based Notify Technology has secured a £500k funding.
Backers included the North East Venture Fund, supported by the European Regional Development Fund and managed by Mercia Fund Managers, Notify has developed a new health and safety software platform.
The company plans to use the funds to step up its sales and marketing activities to attract new customers and is expected to create a significant number of jobs in the next five years.
Founded in May 2017 by Duncan Davies and Andy Dumbell, Notify Technology provides a platform that allows organizations of any size to manage worker health and safety. The software enables individuals to record accidents and near misses on a mobile device, and for their managers to track outcomes, actions, and trends using real-time dashboard reporting.
It also provides a free near miss reporting app 'NotifyIt' which aims to help businesses worldwide to improve their health and safety culture, and which has already been downloaded in 58 countries around the globe.
Existing clients include Travis Perkins plc, Thyssenkrupp, Bournville Village Trust, Alexandra Palace, and Pinewood Studios.
Duncan Davies, the CEO of Notify Technology, commented on the deal: "Notify aims to create a safety revolution. In most cases, incidents happen well beyond the reach of a desk-bound computer, and reporting risks is still a manual process. Notify makes risk reporting and identification simple and efficient. The data can then be used to identify where risks are highest so people and organisations can be better forewarned. This investment is crucial in allowing us to get our message out, within the UK and globally, and to push forward with our technology roadmap to help make workers safer and healthier wherever they are in the world."