Lancaster Uni enhances student engagement with cloud-based chatbot
Lancaster University is using Amazon Web Services to enhance the development of a voice-enabled "online companion" with machine learning and artificial intelligence to improve student engagement.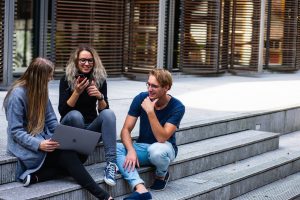 The university launched a trial of Ask LU, a chatbot running on the Amazon Web Services (AWS) cloud, delivered via mobile phones and Amazon smart speakers set up in the rooms of 150 students.
The project, which included three full-time developers, two of them former students, is intended to improve communication with students in general while catering for the specific needs of freshers and students with disabilities such as dyslexia or visual impairments.
Through the voice interface, students can get information about a range of subjects, from timetables, tutors and grades to how many PCs are available for use, whether a certain book is available at the library and how many washing machines are currently in use.
Chris Dixon, head of IT partnering and innovation at the university, said the project was developed in recognition that students might not want to communicate with the university in traditional ways: "Ask LU can provide information to students who perhaps don't want face-to-face engagement in certain situations. Freshers might be embarrassed about asking where things are, while other students might not want to look up information on their mobiles as it can be a distraction when they are studying."
The university will now use the AWS stack to introduce other functionalities such as the second phase of development, which will involve use of artificial intelligence and machine learning to get insights from data and plan meaningful interventions while enhancing learning experiences. Future functionality could also include recorded voice feedback from tutors to accompany grades, as well as more digital services and more endpoints, including Facebook. If all goes well, the voice assistant could be available in up to 6,000 student bedrooms.