10 technology recruitment agencies in the Midlands
Last updated on: June 7, 2018,
Author: Editorial Team
With universities and colleges kicking out for the summer very shortly, many graduates and school-leavers looking for a job in a technology related field and may not be sure where to start their search. Alongside these newbies, experienced tech specialists moving into the region may be looking for their next role.
To save you some time, we've found 10 agencies specialising in finding technology roles in the Midlands and beyond – either contract or permanent – so they could be your first step towards finding the right job. As well as the recruitment agencies, you could approach companies like Edge Testing Solutions that have careers listed directly on their website.

In the IT sector they hire within development, testing, infrastructure, PMO. They have offices in several cities, biggest ones in Liverpool, Manchester and Birmingham. Also offer temporary, contract and permanent staffing.

Their office is in Leicester. CRG TEC stands for Technology, Engineering and Communications consultancy with 25 years of experience.
Barclay Anderson IT Recruitment

One of their biggest offices is in Nottingham. They say their capability in the delivery of high quality Individuals at the upper quartile level in CRM, e-Procurement, Data Warehousing and Enterprise Systems Management is First Class.

They are based in Birmingham. They're also part of Harvey Nash Group, a $1bn revenue technology recruitment and IT outsourcing company, listed on the London Stock Exchange.

They began working in 2009. Office is in Coventry. Their opportunities for job seekers range from Graduate to Senior/Management positions within the IT and Engineering sectors.

Their head office is in Birmingham. They use Precision Recruitment Management as a strategy. They also have a rewarding system for customers and referrals.

Head office in Birmingham. Both directors have over 20 years of experience and a number of client connections.

A huge number of offices all over UK. Founded in 1948, so a lot of experience. They've been on Fortune® magazine's list of "Most Admired Companies.

Based in Birmingham. Founded in 2012, they specialize in sourcing technical staff at all levels, from hands-on engineer through to senior management, for a variety of contract & permanent jobs within the automotive, electronics, software & motors industries.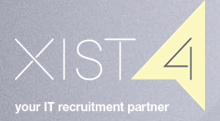 Xist4 is an IT recruitment agency with over 10 years' commercial IT, technology and telecoms recruitment experience. They assign an experienced manager to act as your dedicated recruitment partner.