£100 million testing centre for self-driving cars nears completion
Posted On November 26, 2020
---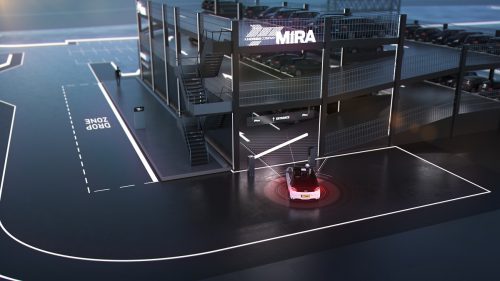 Self-driving vehicles are a step closer to becoming a reality on public roads with the construction of a new £100 million ecosystem nearing completion in Nuneaton.
An autonomous vehicle development centre – known as ASSURED CAV – has been developed by automotive engineering specialists, HORIBA MIRA. It has been specifically designed to enable the automotive industry, policy makers and Government to develop autonomous vehicle technology, ensuring it is robust to the wide range of eventualities seen on public roads, before being released to consumers.
ASSURED CAV's combination of facilities and capabilities are set to open in March 2021 and is a culmination of £100 million investment made over recent years.
The facility includes a high-speed facility enabling autonomous vehicles to be tested at the limit of controllability, urban environments where vehicles will experience pedestrians and cyclists, complex junctions and on-street parking, a purpose-built multi-storey car park which will support the development of automated valet parking, an ultrafast 5G mobile private network supported by Vodafone, an extensive portfolio of digital replicas where simulated testing can be scaled, an on-site network of campus roads complemented by a 300 km network of adjacent CAV-enabled public roads equipped with a range of intelligent transport systems enabling real-world road trials and a full complement of advanced robotic targets and supporting junction layouts adhering to relevant protocols for a full suite of Advanced Driver Assistance Systems (ADAS) testing.
Declan Allen, managing director at HORIBA MIRA said: "We've been on a journey to create ASSURED CAV; it represents many years of intense research and investment to bring together one of the most comprehensive CAV validation ecosystems in the world.
"At a time when the automotive industry is facing significant headwinds, we've been steadfast in our approach to delivering this investment and we're extremely proud to provide an ecosystem which will allow the automotive industry, as well as complementary industries, to develop and prove their self-driving technology.
"This is a unique opportunity for companies to accelerate their activities to lead the industry – it will allow companies to bring forward their activities in this sector in an efficient and optimised manner, enabling them to solve the real-world problems of integrating their automated products into the public roads, whilst also importantly achieving consumer acceptance."
Chris Reeves, head of connected and autonomous vehicle technologies at HORIBA MIRA, said: "Supported by the Centre for Connected and Autonomous Vehicles as part of CAM Testbed UK, ASSURED CAV demonstrates that HORIBA MIRA is again at the forefront of Government and industry's collaborative approach to ensuring the UK is the best place in the world to develop and deploy CAM.
"Although we've seen huge strides made in CAV technologies in recent years, the overriding challenge for the industry is giving consumers confidence that CAVs are safe enough to be on our roads. Our new ASSURED CAV ecosystem does just that and is a significant milestone in helping CAV developers bring their vehicles to market. Not only will ASSURED CAV help to ensure a seamless development process, it will also foster the innovations and cross-industry partnerships needed to speed up the self-driving revolution and realise the huge economic and societal benefits it will bring."
---
Trending Now
You may also like