Air-IT scoops European IT & Software excellence award
---
Managed IT and Communications provider, Air-IT has won the Managed Service Solution of the Year Award at the IT Europa European IT & Software Excellence Awards, recognising the firm's expertise in managed backup and business continuity solutions.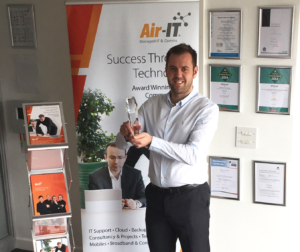 Based on their use of StorageCraft backup and disaster recovery technologies, the award showcases their excellence in the support of IT infrastructure, and provision of hosted or Cloud based IT services as opposed to on premise based solutions.
The judges were looking for a company that met customer needs and had a proven record of how service level agreements were not only monitored but guaranteed.
John Garratt, Editor of IT Europa and head of the judge's panel said: "Not only did we have a record number of entries and votes from the industry, but the quality was even higher than previous years and confirms our view that Europe has entered a new era of IT confidence. It is up to us as an industry to take these ideas out to the market, to show the general media, politicians and governments that the industry is not all about security threats and scare stories, but regularly delivers great productivity gains to ordinary businesses and people. The evidence is in the projects that we have highlighted with our selection of finalists and winners."
Now in their ninth year, the awards are highly recognised within the ICT industry attracted more than 500 entries representing 28 countries across Europe. Major technology firms including Microsoft, Dell-EMC, Amazon Web Services and Cisco were named amongst winners, demonstrating the high standards East Midlands based Air-IT were competing at.
Air-IT's Managing Director James Healey said: "We're extremely proud to pick up the Managed Service Solution of the Year Award. IT Europa is a leading name within our industry, and the standard of these awards is always incredibly high. It's an outstanding achievement and recognition for our team and testament to the quality services we're committed to offering to help our clients achieve their business technology goals."
Air-IT has also been named finalists for CIR Magazine's forthcoming Business Continuity Awards, 2017. Once again, the company has been shortlisted for its capabilities as a StorageCraft Platinum Partner, in the Resilience in Infrastructure and IT Service Delivery category. This marks further international recognition for the firm, and reinforces their position as a current world ranking Managed Services Provider.
Healey adds: "This is a really exciting time for Air-IT. To receive two such prestigious nominations in close succession is extremely rare. This kind of recognition is testament to the managed services we provide, and both nominations together confirm and prove that our services and solutions are at the very top of our field. We're incredibly pleased to share these achievements with our team. They're the real winners behind our mutual and continued success."
---
Trending Now
You may also like