BEC announces second Cohort for the FORWARD Accelerator
---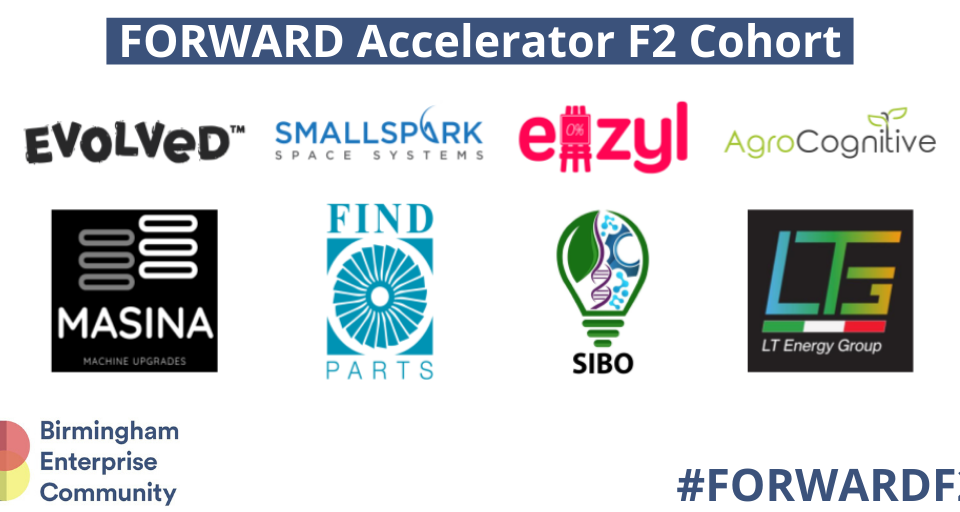 Birmingham Enterprise Community (BEC), a Midland's entrepreneurial support organisation, has just welcomed 8 new businesses onto it's flagship FORWARD Accelerator programme.
Businesses from across the world applied for the 6-month accelerator programme run by BEC from Alpha Works in Birmingham's iconic Alpha Tower.
FORWARD, launched in 2019, searches for ambitious startups with ambitions of growing their businesses through the Midlands-based community. BEC has chosen 8 businesses for their 'F2' cohort containing both regional and international representation over several different industries ranging from aerospace to Food and Agtech.
The 8 businesses joining FORWARD 'F2' are:
Evolved Snacks – Evolved want to inspire people to eat more fruit and veg, with their range of NASA-inspired freeze-dried fruit snacks. Malvern, UK.
Smallspark Space Systems – Founded in 2018, Smallspark Space Systems is a UK based Aerospace and Artificial Intelligence (AAI) research firm working to push the boundaries in low-cost rocket propulsion systems and Artificial Intelligence capabilities in the engineering design process.Cardiff, UK.
Eazyl – Eazyl is changing how we buy and sell art online. Instead of charging unfair and
exorbitant commission fees,meaning buyers pay directly to artists for the work they love, making art accessible and affordable for all. Birmingham, UK.
Agrocognitive – Agrocognitive an affordable precision agriculture platform to give insights to farmers and automate all farming processes. Caracas, Venezuela.
Masina – Masina breathes new life into machines by custom electronics and software.Has recently developed an electric motorbike using repurposed materials. Coventry, UK.
Sibo – Sibo is creating thoughtful innovations to lead the food industry towards a
sustainable future through the use of uncommon raw materials to develop healthy, sustainable and tasty food ingredients and products. Cartago, Costa Rica
FindParts.aero – Marketplace for Aerospace Parts & Repairs. Pennsylvania, USA
LT Energy Group – Smart Cities & Cleantech start-up company developing smart technology solutions for outdoor applications. Turin, Italy.
"Birmingham and the rest of the Midlands is beginning to catch the world's attention" said BEC CEO Daniel Evans. "We've seen a large increase in international interest for the FORWARD programme which I think is partially due to the vast range of opportunities available in the region. Having had a global mentor pool from the start, we've always thought internationally which has set us up well to be able to attract the international startups taking a look at what the Midlands has to offer them, allowing us to create an awesome mix of both local & international startups. "
---
Trending Now