e-learning firm GuyKat opens new HQ in Birmingham
Posted On November 22, 2019
---
Ee-learning company GuyKat has opened a new headquarters in Birmingham, and the move is expected to lead to the creation of up to 30 jobs.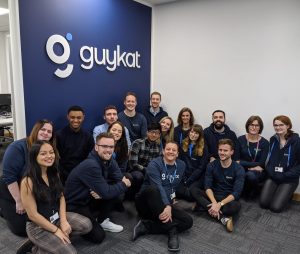 The company which has worked with the likes of Cadbury, L'Oreal and Unilever has vacated its two existing premises to complete the move into the new Faraday Wharf base.
It comes after it opened its first US office in Tampa, Florida in October to execute an aggressive expansion into the North American market.
Chief executive Guy McEvoy said: "When we started ten years ago, our first official home was a business incubator called E4F. There were about 20-25 different businesses, mainly start-ups, sharing the same space.
"Now, ten years later, after a few upward moves, we are back in the exact same unit. Only this time the entire space is ours. Going full-circle has been a wonderful journey.
"We see much of our growth coming from North America and are looking to build on that though our physical presence there. We'll also be taking on more remote workers from all over to help support our growth.
"But our 'digital factory' and spiritual home will always remain here in Birmingham. The company has been built on the talent of graduates and apprentices from this region. That recruitment strategy will remain core to all we do."
GuyKat builds eLearning using an organisation's own brand and corporate voice and typically delivers in weeks, not months.
---
Trending Now
You may also like