Enterprising Birmingham duo launch virtual FD service for SMEs
Posted On November 20, 2018
---
An enterprising Birmingham duo are celebrating the launch of a new service designed to help Midlands SMEs create sustainable business growth.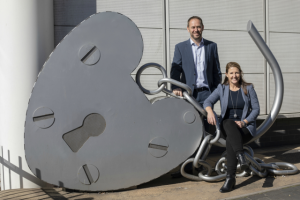 eVirtualFD is an entirely cloud-based FD (financial director) service, designed to give small and medium sized businesses access to a 'virtual' FD who can help them develop a deeper understanding of their company's finances and build long-term growth.
eVirtualFD is the brainchild of accountant and financial director Lee Turner, owner of cloud-based accounting firm Titanium Accountants, and business partner Sian Lenegan, owner of thriving Birmingham creative agency, Sixth Story.
The idea for the service came about when Sian hired Titanium Accountants in 2014, and experienced first-hand the benefits of using a cloud-based accountant to drive growth in her business.
The ultimate aim of eVirtual FD is to develop a complimentary app to accompany the service, but at the moment it's entirely cloud-based platform, built around the Xero accounting system. Some key features include a system that allows uses to enter a budget and 'pull the levers' – what happens to cash flow if sales go up, what would happen if they got their debtor days down – users can pull the levers in the system to view the potential outcome in a virtual simulator.
It's USP is that it's the first 100% virtual service, provided entirely through a cloud-based platform.
"In the UK, SMEs pay more than £7 billion in unnecessary tax every year, and a significant proportion of businesses fail before they reach the 10-year mark due to lack of cashflow and an unprofitable or unsustainable business model," says Lee.
"The insight required to overcome these hurdles usually comes from having an experienced financial director on board, but most SMEs simply can't justify that cost. We want to help more businesses grow successfully and sustainably, so eVirtual FD provides a more economical way for them to access expert insight and translate their figures into long-term growth."
The 100% cloud-based service is provided through a team of experienced Financial Directors, and while the service is initially being offered to Midlands-based businesses in the West Midlands, the duo are keen to reach more SMEs across the UK by expanding eVirtualFD into a franchise model.
---
Trending Now
You may also like