Govt minister visits Institute of Tech site in Dudley
---
Government minister James Brokenshire has visited Dudley to take a look at the development site of an upcoming £32 million Institute of Technology.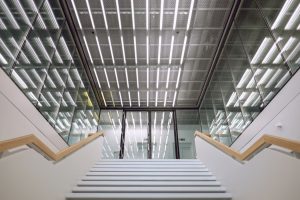 Mr Brokenshire, who sits in the Cabinet as Secretary of State for Communities and Local Government, was invited by Dudley North MP, Ian Austin, to discuss plans to attract high-skill jobs to the town ahead of the Institute of Technology opening in 2021, once built.
After meeting with Dudley South MP, Mike Wood, Dudley College Principal, Neil Thomas, and council chief executive, Sarah Norman, at the site on Tipton Road, Mr Brokenshire then visited Dudley College to meet students and apprentices, and to discuss the college's plans to develop a new high-tech skills and apprenticeships centre.
Ian Austin MP had worked closely with the college on Dudley's successful bid for a new £32 Institute of Technology, which will attract new industries and jobs to the Black Country. The new centre will be developed by Dudley College working with universities and local businesses.
Ian Austin commented: "I promised at the election to work flat out to secure a new technical and manufacturing skills and apprenticeships centre so I'm delighted our plans have been given the go-ahead. I've always said we need to make education and skills our number one priority to attract new industries and well-paid jobs to replace the ones we've lost in traditional industries, help local businesses grow, give youngsters a first class start and help adults get new jobs too.
"There'll be massive growth and lots of well-paid jobs in new hi-tech industries over the next 20 years. I've got big ambitions for Dudley and want to make sure we bring new investment, new industries and new jobs to the Black Country."
Speaking after the Secretary of State's visit, Dudley South's MP, Mike Wood, said: "If we are able to secure a university centre in the borough it will be incredibly valuable for the wider area as we look to provide the next generation with the right skills and training for the industries of the future. I believe this university centre and further investment in Dudley College could be pivotal in changing young people's perception of education and the opportunities available to them.
"I know the Communities Secretary shares our vision for the future of the area so it was most appreciated that he took time out of his busy schedule to come and see us."
---
Trending Now
You may also like