Innovation Birmingham Campus companies raise over £10 million
Posted On January 8, 2018
---
Innovation Birmingham Campus companies raised over £10m, driving growth and innovative product development in 2017.
Amongst the tech talent based on the Innovation Birmingham Campus, three companies closed successful investment rounds towards the end of 2017, including optometry business Aston EyeTech securing £5m in November to launch its latest product range. The company builds hardware and software to improve eye care.
Smart home technology company LightwaveRF also raised a seven-figure sum, securing £5m from October onwards to progress product development and sales following a significant deal with Apple, launching products to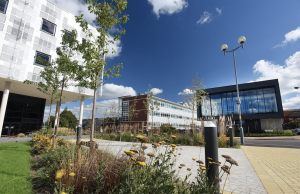 control smart devices with iOS apps and Siri voice commands.
Andrew Pearson, Chief Executive of LightwaveRF, said: "I am delighted with the level of interest that we have received for the fundraise, which is a great endorsement of our business plans and ambition."
Database specialist Synapse Information has also secured almost £200,000 so far as part of a larger investment round, through its current crowdfunding campaign utilising the Shadow Foundr platform. Launched in October, the investment will create more jobs for the local economy and stimulate growth within the business. Dr David Hardman MBE, CEO of the Innovation Birmingham Campus said:
"It's extremely encouraging to see such investments supporting the tech innovators on the Campus. These significant investment rounds present exciting opportunities for SMEs based here to grow and take on more people to access and disrupt global markets.
"This sort of commitment by investors provides a clear sense of external acknowledgement as to the high quality of investment opportunities there are on our Campus."
In addition to financial successes across the Innovation Birmingham Campus throughout the past few months, start-ups have also received widespread acclaim through a series of awards and partnership deals.
September saw the launch of School of Code's 16-week Bootcamp, facilitating a collaborative educational environment that retunes people from diverse backgrounds, turning them into valuable software programmers, thereby providing them with new employment prospects. Halfway through the Bootcamp the School teamed up with Dell EMC to set industry-based challenges for its cohort of coders.
As well as being crowned 'Best British Mobile Start-up' by global professional service company KPMG, language learning start-up Learning Labs joined forces with Birmingham City Council in November to support unaccompanied asylum seeker children to learn English as a second language ('EAL'). As a result, its pioneering mobile language EAL FlashAcademy app is being recommended to 400 schools in the region.
In its bid to help 50,000 young people into business by 2020, entrepreneurship consultancy Enploy partnered with BCU's Faculty of Arts, Design and Media, working with its Employability Team in November to help graduates develop their entrepreneurial skills through a ten-week workshop programme entitled The Next Step, blending online and face-to-face learning.
Barclays Eagle Labs-based lettings and management tool 'brightLET' received widespread recognition for the cloud-based platform enabling the remote management of properties, utilised by over 300 landlords and 600 tenants. In September, the start-up was crowned the Midlands' winner of the Barclays Entrepreneurs Award 2017, representing the Midlands as a hub for innovative activities and ventures. The start-up's high growth potential was also recognised on a national scale in December, securing a space on the Barclays Scale Up UK 36-week programme in partnership with the University of Cambridge.
Internet mapping service Majestic added a second Queen's Award for Enterprise to its trophy cabinet in September. Presented at Innovation Birmingham's iCentrum building by Her Majesty's Lord-Lieutenant of the West Midlands John Crabtree OBE, the prize rewarded outstanding performance in international trade.
As part of the drive for start-up growth and success, the Campus also partnered with innovation and research centre RE-Rise UK in November, providing start-ups with international access to support and mentoring, with RE-Rise UK's operations in Delhi driving innovative technology-based projects between the UK and India.
The Innovation Birmingham Campus nurtures digital brilliance across start-ups, scale-ups and a network of innovators, running a series of business support programmes. To-date, 162 early-stage start-ups and entrepreneurs have graduated from the Entrepreneurs for the Future (e4f) programme, 78 scale-up companies have benefitted from the Serendip® Smart City Incubator, and 16 companies in 2017 alone received specialist environmentally-oriented advice and grants to convert energy saving business plans into commercial successes.
---