Inventor-e wins £350,000 grant from Innovate UK
---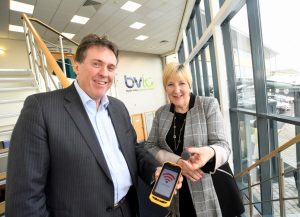 Solihull technology company Inventor-e has received a six-figure grant to develop an energy efficient product to track and monitor assets.
The company is based at the Blythe Valley Innovation Centre, and provides a range of inventory management solutions linked to its cloud-based Sourcerer software platform.
The business has won a £350,000 grant from Innovate UK to further develop its Smartie asset management tracking product which ensures that employees don't lose their tools.
Inventor-e will be working alongside the Manufacturing Technology Centre, Rexel UK and SKN Electronics on the project.
Inventor-e chief executive Dean Henry, said: "We have received positive feedback from our Smartie tag and app which means companies can monitor and keep track of their assets at all times which is particularly useful for businesses with tools and equipment in vans.
"The Innovate UK grant has been awarded to develop this into a production version. It will be the world's first because we are researching the use of energy harvesting.
"At this stage, we can track assets using Bluetooth technology to tell people they are in close proximity to their equipment and the new product will have a battery which will frequently charge itself, removing the need to change batteries in the field.
"This has never been done before and we are starting work with our partners within the next few weeks.
"We have a number of distributors already interested so this is an exciting time."
Inventor-e's team is expected to rise by two or three new members of staff to cope with the extra work.
---
Trending Now
You may also like