Social media referral firm moves to Nottingham
---
London social media for events company has moved into Accelerate Places Nottingham, an East Midlands hub for growing tech businesses.
Gleanin uses social media to drive attendance up at large-scale exhibitions and conferences.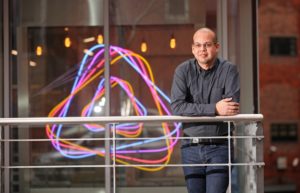 One of its founders, Ajay Mathur, has opened the office at Accelerate Places and will work alongside like-minded businesses aiming to scale-up. He also believes Nottingham can offer a better quality of life than the capital.
"I'm surrounded by companies at a similar stage to ours and have interesting conversations on a daily basis," he said.
"London is one of the world's great cities and it has a big tech community. But it's not so great when you have a young family – it's expensive and my wife and I were starting to get worried about schools.
Mark Sanders, chief executive of Accelerate Places, added: "We launched Accelerate Places Nottingham based on the success we have enjoyed with a similar model in Hammersmith, London, where the next generation of scale-up businesses can come together to exploit the potential of the digital revolution.
"Gleanin's presence here is a perfect example of what co-working space is about. It's got exactly the kind of stimulating environment that these businesses look for, but it's in a city which is much better value and much more liveable than London."
Gleanin has already worked with shows such as BETT, RBTE and EventTechLive.
---
Trending Now
You may also like