Kal's Andrew Wood named Best Digital Entrepreneur 2016
Last updated on: May 5, 2016,
Author: Editorial Team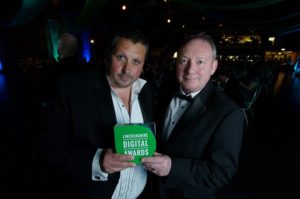 Gainsborough mobile leisure and digital specialists Kal Group are celebrating as director Andrew Wood has been named Digital Entrepreneur of the Year 2016 at the Lincs Digital Awards.
The company was also Highly Commended in the Best Digital Business and Best Digital Marketing Campaign categories.
Kal Group specialises in marketing, branding and promotion within the mobile leisure industry and earned three nominations in the face of stiff competition: 90 applications were submitted in total and 25 businesses were in the running for the prestigious awards, presented last night (Thursday) at Lincoln's Engine Shed.
"I'm delighted to have won in the entrepreneur category – it's testament to the hard work we've put in over the years," explained Andrew. "We've had a really successful couple of years and to win and be highly commended in two others demonstrates our commitment not only to customers but also to the wider community. It was a really good night for everyone at Kal Group."
In the Best Digital Entrepreneur category, Andrew cited his work within the community as one of the driving factors behind the nomination, including the recent Gainsborough launch of consumer shopping app SaveAsYou. He has also invested in 13 local young people, with six of them gaining full-time employment since the launch of Kal-Academy 3 years ago.
The firm has created and maintained a charity website at www.lincolnsantafunrun.co.uk free of charge for the last 3 years, the site which registers runners digitally and allows them to fundraise for what has become a huge event in Lincolnshire's sporting calendar.
Andrew adds: "As a company, Kal has grown beyond measure, from humble beginnings working out of a garage with 3 employees to where we are now as a trusted and renowned name within mobile leisure and employing over 20 people. The award win helps us to show what value we offer to customers, how ambitious we are and how easy we are to work with. We'd like to thank the judges for recognising just how far we've come in our short history."