Leicester's Spirit buys health wearables firm Aseptika
Posted On October 7, 2016
---
Leicester-based Spirit has purchased Aseptika for an undisclosed sum. Aseptika is a healthcare technology developer described as a "pioneer" in the medical wearable and self-care sectors.
The deal will bring Aseptika's Activ8rlives range of self-monitoring devices into the Spirit portfolio alongside its cloud-based technology CliniTouch Vie. The firm operates in the telehealth sector, helping people to stay at home supporting them in better self management.  As well as empowering individuals, it allows for remote clinical monitoring of medical conditions by healthcare professionals providing an early notification of deterioration.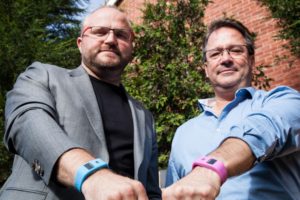 Aseptika Limited (founded 2007) is a healthcare company developing and marketing an integrated suite of self-monitoring devices and services under the Activ8rlives brand. They develop integrated systems which can be used by consumers and their healthcare service providers to better self-manage long-term health conditions through self-monitoring.
Aseptika founder Kevin Auton said: "We are delighted to be joining the highly successful Spirit group of companies in delivering the new technologies, solutions and services needed to support the growing healthcare needs of the UK.
"Spirit exemplifies the drive and innovation of the SME sector in delivering the technologies and services our NHS will need in the coming months and years as it accelerates towards digital delivery of healthcare to make its finite resources go further."
Spirit's chief executive Chris Barker added: "At Spirit, we believe that we can offer patients greater control over their own health by rethinking the way that care is delivered and Aseptika shares this vision. The Aseptika team has exceptional experience developing pioneering technology and we're looking to grow this capability at their Cambridgeshire hub.
"With these skills, Spirit will be able to accelerate its programme of innovation. We're innovating and growing fast so we can empower more patients across the UK. This significant acquisition is the second that we've made and we're certainly on the hunt for more acquisition opportunities in the near future."
---