Midlands university partners launch collective IP gateway
Posted On October 12, 2018
---
The University of Warwick is part of a new connected system of technology transfer offices that has been launched to drive jobs and economic growth across the Midlands region, following a £5million award from Research England.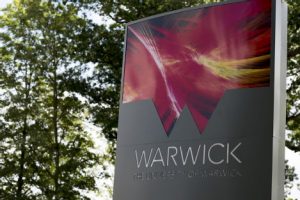 Led by the University of Birmingham, the award will establish MICRA as a single gateway to the collective intellectual property (IP) resources from the eight Midlands Innovation universities – Aston, Birmingham, Cranfield, Keele, Leicester, Loughborough, Nottingham and Warwick.
The Midlands Innovation universities already generate more new inventions and patents per unit of research income than any other leading group of UK universities, and the funding is expected to be a key driver for significant new investment and jobs in the region.
Collaborating with industry and organisations from all sectors, the MICRA programme will provide support and access for enterprise development, investment and investor relationships to help entrepreneurs drive their ideas forward, meet a wider community of like-minded people and find the most appropriate, targeted incubation support within the partnership.
Warwick's input into MICRA is being led by Warwick Ventures, the University department dedicated to the commercialisation of innovations from Warwick's world-leading academic research.
Quentin Compton-Bishop, CEO of Warwick Ventures, said
We're delighted to be part of the MICRA programme. Our involvement emphasises Warwick's outstanding track record in innovation and entrepreneurship. It's a great opportunity to share best practice between the partner universities and to collaborate to build an innovation network across the Midlands, generating new jobs and investment."
Dr Helen Turner, Midlands Innovation Director said
Collaborating with strategic partners is crucial. It allows us to collectively offer a critical mass of innovation for the region and appeal to investors who are seeking long-term investment opportunities.

Offering a single-access route that makes it easy for investors to access opportunities and enhance the support available for growing businesses is highly appealing. Attracting large 'patient capital' investors who are willing to back new ideas with vision and management talent, and who understand the potential for success will drive new growth businesses and new high value jobs in the UK economy."
The eight universities collectively have world-leading R&D resources across several sectors, science parks and incubators, as well as strong industry links, and the Midlands Innovation partnership is well positioned to strengthen and expand the social and economic fabric of the Midlands. Working across the partnership, the Technology Transfer Offices will be able to access Intellectual Property Case Managers with detailed sector knowledge quickly and efficiently.
Professor Stuart Croft, Chair of the Midlands Innovation Board and Vice-Chancellor and President of the University of Warwick, commented:
I am delighted that the Midlands Innovation partnership continues to go from strength to strength with the announcement of this Connecting Capability Fund Award from Research England. Our expertise and capabilities cuts across all disciplines and it's rewarding to see how this activity is now translating into new and exciting strands for the partnership."
The MICRA programme is awarded as part of new investment of £67 million through Research England's Connecting Capability Fund (CCF) in fourteen new collaborative projects, between universities and with other partners, to drive forward world-class university commercialisation across the country.
David Sweeney, Executive Chair of Research England, said:
These projects demonstrate the commitment of universities to work together to strengthen the R&D and technological capabilities of the UK, building upon our successful Higher Education Innovation Fund (HEIF). In the Industrial Strategy, the Government asked us to improve our ability to turn exciting ideas into commercial products and services. Universities have stepped forward in these projects to show that they can do world class commercialisation, alongside world class science.

I believe these projects present important innovations that should inform our strategic approach to commercialisation in UK Research and Innovation for the future."
---
Trending Now
You may also like