Mitrefinch is aiming to create 500 jobs in Nottingham
---
HR and payroll software company Mitrefinch says it wants to create "500-plus" jobs in Nottingham as it embarks on an aggressive expansion strategy.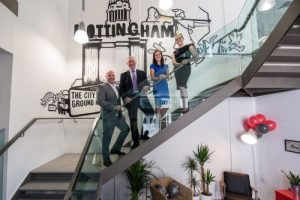 The company officially opened its Nottingham at Nottingham One on Monday, says it has already targeted office space to move into when it outgrows its current offices, which can house up to 125 people.
Matthew Jenkins, chief executive of Mitrefinch commented: "We're looking to fill our current offices as quickly as possible and then we'll be able to grow further in Nottingham over the next 18 months."
Mitrefinch developed the world's first electronic employee time and attendance system in 1979 and has continued to design innovative, user-friendly and intelligent products that help organisations to get the most from their workforce.
Headquartered in York, the business has expanded internationally, with 160-plus UK staff and a further 90-plus staff operating globally in Canada, the US and Australia.
Jenkins says that Nottingham won out over Birmingham for Mitrefinch's Midlands base because of the tech talent in the city.
He added: "The tech scene in Nottingham is well-established. There are a lot of tech start-ups in the city, as well as two great universities and we want to tap into that talent. We realise that people might not stay forever with but if we can get the best talent and they can use us as the next ladder on their career ambitions, then all the better."
Jenkins said that over the next decade Mitrefinch plans to grow rapidly.
"We've already seen office space into which we can grow, and there is also space in Nottingham One we can use. We want to be employing 500-plus people in Nottingham as soon as possible. We're on a very aggressive growth path and the company is absolutely flying at the moment. Things are looking very rosy."
---
Trending Now
You may also like