National Express launches new transport tech hub in Birmingham
Posted On October 30, 2018
---
Coach operator National Express has teamed up with Innovation Birmingham to launch 'NXIS', a new business incubator which is hoping to create commercial opportunities for small businesses across the West Midlands.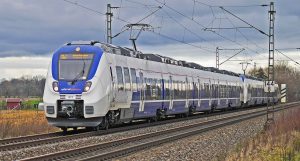 The new business support hub has opened in Birmingham aimed at helping the region's tech companies develop new products for the transport sector.
The hub will provide tech companies with access to senior figures in the transport sector and other corporate partners, mentoring and six months of free co-working space at Innovation Birmingham's iCentrum building.
Innovation Birmingham's Serendip Smart City Incubator programme already boasts partners such as Barclays Eagle Labs, Tata Motors and Transport for West Midlands.
Rob Muir, chief digital officer at National Express, commented: "We are delighted to partner with Innovation Birmingham to launch our new incubator for small businesses developing new digital technology solutions.
"The purpose of innovation in this context is to disrupt the market, enhance products and streamline processes.
"Alongside giving something back to small businesses and boosting the great ideas of entrepreneurs, we are hoping to acquire some of the most talented and sought-after minds in the region to improve what we do and maintain our position as a leading international public transport provider."
Innovation Birmingham's community currently comprises more than 170 digital technology businesses working in fields such as education, sport, finance and media.
Katharine Fuller, head of business support at Innovation Birmingham, concluded: "It's great to see our Serendip Smart City Incubator thriving and the addition of a new partner and more incredible entrepreneurs presents new opportunities for all.
"We are so excited to be welcoming National Express as our latest commercial partner, joining an array of prestigious international companies on-site.
"Having globally successful partners on-site is not only beneficial for members of the incubator but also the wider Innovation Birmingham community too, acting as inspirational and motivational hubs for aspiring companies."
---
Trending Now
You may also like