Network solutions provider Syscomm builds sales and marketing
---
Syscomm Ltd has recently announced a number of strategic hires at their Coventry office.   The new roles are focussed on the sales and marketing and are essential to support increased sales initiatives and continued expansion into new markets throughout 2018.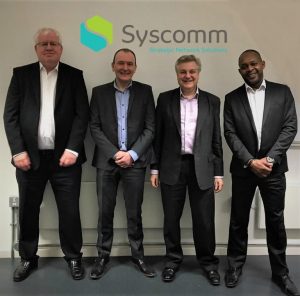 Darren Bindert has been hired as Head of Marketing for Syscomm. Darren is a B2B marketing leader with more than 20 years of professional experience in technology, SaaS and other IT services.
He will be developing and implementing an overall business marketing strategy, translating the company's business objectives into marketing strategies that drive revenue.  In addition, he will determine and administer the marketing budget, identify and track key metrics, and establish positioning for a wide range of Syscomm's products as they continue on their quest to become the leading Managed Cloud Service Provider in the UK.  "I am really looking forward to working with Syscomm to build innovative and effective marketing ideas which will further drive customer participation and engagement with the business."
Ian Crombie will be responsible for developing new business opportunities and creating customised networking and connectivity solutions to meet Syscomm's customer's needs.
As a Unified Communications sales consultant, Ian has in depth knowledge of delivering transformational business benefits through Cloud-based technologies.   Ian has over 25 years trusted sales experiences across public and private sectors.  He commented: "This is a very exciting time to be joining Syscomm. It's a great opportunity to really harness my skills in supporting our core customers and in growing new business."
David Heeley has been brought on board as a local Business Development manager and will immediately focus on promoting the Coventry and Warwickshire Gigabit Voucher scheme, encouraging local SME businesses to take advantage of the £3k grant that's available for local business to upgrade their broadband to Gigabit speeds.
David has 28 years of experience working in Business Development predominantly within the voice and data cabling industry.  David brings a wealth of knowledge in Account Management and Channel Sales within a range of telecom products including cabling, fibre optics and most recently, IP Surveillance solutions and Access Control Systems.
Martin Nwangwa has been named as Business Development Manager and will be responsible for integrated services to business parks and companies looking to work with local councils to improve their connectivity. As a seasoned IT Data Sales Professional, Martin's depth and knowledge spans over 17 years within the IT arena, where he focussed on distribution and deployment of server and communication equipment to the many sectors, both in the UK and internationally.
Chris Tyler, Syscomm CEO, is pleased to bring the new team on board.   "We are very excited to welcome these four to the Syscomm team.   I believe the potential for growth and value creation is tremendous in our industry and that these new team members will contribute greatly to our plan to significantly grow the business over the next 5 years and cement our position as an innovative market leader."
"These changes support Syscomm's commitment to growing its brand and strengthening our sales and marketing function.  Their combined experience and knowledge will provide a more seamless approach to future business development and brand strategy."
---
Trending Now
You may also like