New Nottingham company using tech to manage debt
Posted On November 2, 2018
---
A new Nottingham technology business, Tully, say it is on a mission to tackle Britain's growing personal debt crisis.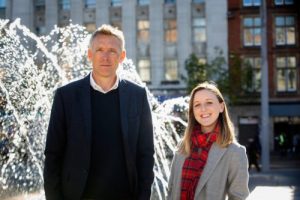 Backed by Nottingham venture builder Blenheim Chalcot, the company believes that the way personal debts are currently tackled via fixed monthly payments don't work for either people or the businesses that lend money.
Tully says it is building a free digital platform which lets people get a clearer picture of their financial situation with an easy to use but detailed online budget. Tully uses that budget to negotiate with each person's lenders to help them manage their debts in what it is calling "a more affordable, realistic and sustainable way"
There is also no cost for the user; Tully is paid by lenders for helping people to manage their debt repayments.
"The debt industry is broken," said Stuart Bungay, CEO and Co-Founder of Tully. "Lenders impose fixed debt repayment plans to make things simpler, but that is not how the world works today, especially with rise of the gig economy and with the growing numbers of zero hours contracts.
"Income now fluctuates as much as expenses do. What is needed is a flexible approach that makes it possible for people to manage and pay off their debts in a way that suits them. Transparency is a huge part of this and finally, thanks to new Open Banking technology, we are able to help people take control of their financial information and help make their lives better."
Tully's behavioural psychologist, Jessica Salisbury, who also works with the Citizen's Advice Bureau adds;
"We all have debts, it's perfectly normal. But half of us in the UK are stressed about our debts and that doesn't need to be the case. We are on a mission to improve the lives of people facing financial hardship and are creating the one place that helps people take control of their money worries, manage their finances and puts them on a path to a better financial future.'
"By going digital we can help people solve their financial problems in the quickest way possible. For example, most existing debt repayment plans involve a yearly review of your budget, but a lot can happen in a year. We will be doing that budget review automatically, on a monthly basis. This means we can identify any potential financial issues as they happen. We can step in sooner to provide support when things change and help people before a little issue becomes a potentially much bigger headache. For the first time everybody, regardless of how financially literate they may be, can start to understand and make use of their financial information, create a better picture of their individual situation and make a plan for the future.
"We want to provide objective support that will help everyone make the right financial decisions to make the most of their money."
Tully is seeking participants who need help managing their budgets and debts to take part in short one-to-one budgeting workshops in Nottingham city centre. This will help refine the platform ahead of a full consumer launch in early 2019.
---
Trending Now
You may also like