New Nottingham tech hub open for business
Posted On September 29, 2016
---
A dedicated hub for new technology businesses which opened in Nottingham this week has already revealed plans to significantly expand its operations to meet demand.

Accelerate Places Nottingham, based on Wollaton Street in Nottingham city centre, will house up to 265 people working in digital technology businesses upon completion of phase one.
Entrepreneurs can rent desks or offices on a short term basis, or meeting rooms on an hourly basis. Monthly prices start from around £275, which includes high speed wifi and security. Around 25 percent of the desk space available has already been taken.
This means that the tech hub – part of a £40m investment in Nottingham – could eventually be home to more than 330 people working in the tech sector.
Mark Sanders said: "What we have created here is something Nottingham has been crying out for – a space dedicated to helping the next generation of technology businesses exploit the opportunities presented by an accelerating digital revolution.
"We are bringing together a community of disruptive, technology-enabled businesses and providing an attractive environment where they don't have to worry a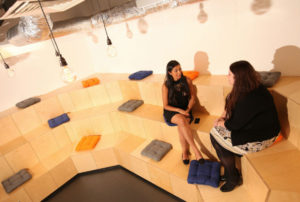 bout the everyday hassles associated with owning or renting property. Accelerate Places Nottingham allows them to focus on what matters most – growing their business and pursuing opportunities.
"Our first phase isn't yet full, but the demand from both our own businesses and other companies who are looking to become members here tells us that we already need more space. The digital economy moves fast, so does Accelerate Places, and we're committing to a second phase now."
Accelerate Places is part of Blenheim Chalcot, the UK's leading venture builder, which has a long track record of investing in high-growth, disruptive technology businesses in sectors like fintech, education and digital media.
It successes include Nottingham-based TDX Group, which it exited in 2014 in a £200m deal with Equifax. Its current portfolio of businesses delivers annual revenues in excess of £300m and employs more than 3,000 people.
Blenheim Chalcot is led by a team of partners – Manoj Badale, Charles Mindenhall, Mark Onyett and Dan Cobley – who have launched, built and exited a number of successful technology ventures. They play an active role in its businesses, advising on both operational matters and strategy.
---
Trending Now
You may also like