Nottingham Technology Ventures grows tech spin-out portfolio
Posted On December 3, 2019
---
The University of Nottingham has announced that it has invested nearly £900,000 during the past year in nine businesses which began life as university research projects in fields which range from manufacturing to mental health.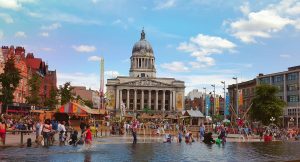 The investments have helped the university's spin-out portfolio secure further funding packages totalling around £14 million – money which will help them to either commercialise their ideas and bring them to market as viable products, or build on existing market presence.
The investments have been led by Nottingham Technology Ventures, which manages the university's portfolio of 20 spin-out companies, working in partnership with specialist investment funds such as Mercia Technologies and Foresight Group. They include:
Blueskeye AI, which is developing technology that uses cameras with embedded AI software to spot the changes in physical behaviour caused by conditions ranging from stress to depression. It receives £100,000 from the university as it continues work on a process which could speed up the diagnosis, treatment and management of a range of mental health conditions affecting a quarter of the UK population.
TextureJet, which receives £60,00 from the university alongside £250,000 from Innovate UK, to develop a new manufacturing technology which leads to more efficient and environmentally-friendly surface treatments.
Promethean Particles, which has received £250,000 from the University as part of a £1.24m funding round led by Foresight Group, which manages the government-backed Midlands Engine Investment Fund.
Dr Andy Naylor, CEO of NTV, says that the University's support for spin-out businesses also helps give other funders the confidence to come on board. He explained: "Technology companies can find it extremely difficult to access the funding needed to develop their products when they are at an early stage in their life. Their technology can be seen as unproven and it may take time for them to develop it to the point where it's commercially viable.
"The University's investment not only comes with the support of an experienced team to help companies achieve their goals, but it can also reassure other potential investors that the ideas have serious commercial potential."
NTV has channelled the University's financial support through two specific funds – the Pathfinder Fund, which helps spin-outs with their initial set-up costs, and the Invention Fund, which provides more substantial backing as these spin-outs seek to develop and grow.
Between them, the two funds invested a total of £881,000 during the year. Besides these current investments, the university has a pipeline of new spin-out businesses which it is also likely to support.
Dr Naylor concluded: "The last year has been extremely successful, with a series of new investments in spin-outs which are developing some incredibly exciting new technologies.
"This builds on the University of Nottingham's long track record of research commercialisation and it's one of the key reasons why we have such a strong pipeline of new opportunities for investment."
---
Trending Now
You may also like