Nottingham's thriving tech industry – with £44k salaries on average
---
The The Tech Nation 2017 report has identified Nottingham as a hotspot for growth in Britain's digital tech industry – with workers earning average salaries of £44,000 a year.
More than 19,700 people are employed in digital technology jobs in Nottingham with digital businesses contributing £835m to the Nottingham economy.
The growth of digital technology companies has been driven by the presence of large corporates including Experian and Capital One, and investments in fin tech start-ups by venture firms such as Blenheim Chalcot.
Marketing Nottingham and Nottinghamshire has highlighted the city's tech industry as part of a strategy to attract inward investment from London. Chief executive Brendan Moffett said: "This is a great tribute to the growing strength of the digital tech industry in Nottingham.
"But we shouldn't be surprised by the city's prominence – there is a heritage of expertise which goes back to the 1970s, so we can justifiably claim to be digital pioneers.
"The message we're getting across in London is that doing technology or scale-up business clearly works in Nottingham, with great talent and good co-working space.
"We've got strong corporates, some amazing start-ups and a lifestyle which has many of the attractions."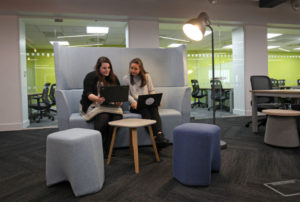 The report, produced by Tech City News, looked at the key clusters of activity in the UK in a sector behind some of the most transformational new technologies, suggesting they contribute to close to £100 billion a year to the nation's economic output.
The resarch found that local support networks, tech industry meet-ups and the availability of co-working spaces were critical factors in assisting the growth of tech companies and associated scale-up businesses.
In Nottingham, Accelerate Places, in Wollaton Street, was highlighted as a provider of tailored workspaces for start-up and growing firms. The office complex already houses growing tech businesses, including Oakbrook Finance, Bizfitech, Cronofy and Intelligent Ways.
Mark Sanders, the CEO of Accelerate Places, said: "The Tech Nation report provides a very clear illustration of the strategic importance of the tech industry to the Nottingham and East Midlands economy.
"We know from our own experience that Nottingham is a place which works not just for tech businesses but growing scale-up companies generally and we can see that in the numbers of people who have signed up to take space with us here at Accelerate Places.
"What's important is that we work together to raise the city's profile as a digital destination, and partner with the universities, Marketing NG and Nottingham City Council to make sure we develop and maintain the talent necessary to fuel that growth."
---
Trending Now
You may also like