Occupational health software company expands in Birmingham
Posted On October 3, 2017
---
Provider of occupational health software, Cohort Software, is expanding in Birmingham after a successful string of client wins.
The company has taken up 8,832 sq ft office space at Eleven Brindleyplace, Brunswick Square, from where it will grow its team and expand the worldwide services it already provides.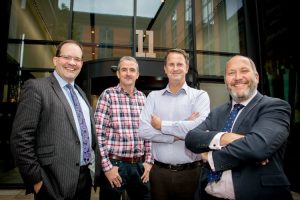 Cohort Software creates solutions for the healthcare sector, with the aim of improving efficiency and communication.
Its web-based system can be accessed anywhere providing internet is accessible and automates tasks such as booking appointments, providing reports and collating patient records, allowing health departments to run paper-free – reducing errors and increasing productivity.
Simon Brooks, Cohort Software managing director said: "Due to continued success and growing worldwide demand, this transition becomes an important milestone and a step forward in the evolution of our business.
We are delighted to further invest in our team and infrastructure to ensure our leading-edge occupational health software meets the changing needs of our valued and loyal client base".
John Griffiths of Savills worked on behalf of Eleven Brindleyplace to secure the deal alongside joint agents Colliers.
John commented: "Cohort Software's decision to remain at Eleven Brindleyplace and invest in their future occupation is fantastic news for both the building and the wider estate.
"This commitment highlights Eleven Brindleyplace as a class-leading location and showcases the desirability of the building and flexible approach being adopted by the landlord."
Charles Warrack, office agency partner at Johnson Fellows working on behalf of Cohort Software added: "Cohort Software was previously based within MSO Workspace but has recently been looking for a more permanent office solution.
"This move will provide a permanent base for its expansion."
Richard Hanson, Cohort product & operations manager concluded: "The new office space and facilities available at this premier location in Birmingham illustrates the commitment our business is making in our employees and our continued product development".
---
Trending Now
You may also like