WarwickNet issues first DCMS fibre broadband installation voucher
Posted On January 3, 2018
---
WarwickNet, a provider of broadband solutions, has announced the issue of its first Gigabit fibre broadband voucher in Coventry and across Warwickshire as part of the first stage of the government-backed Gigabit Voucher scheme, which offers grants of up to £3,000 for SMEs to upgrade broadband in selected pilot areas of the UK.
Launched last month, DCMS scheme partner Coventry Council confirmed local supplier WarwickNet was first off the mark to issue a voucher for free installation of its full fibre gigabit-capable services to a local business. The Council also confirmed that take-up locally exceeded projections and beat performance over the same time period (3 weeks) for a previous scheme in 2014, when WarwickNet alone brought connections to over 100 customers.
Ben King, CEO at WarwickNet said: "In order for this scheme to be a success, it's vital that suppliers get out of the starting blocks quickly so that businesses in the region can immediately start benefiting from this injection of funding. We're in a strong position in that we have done just that and are working around the clock to help local businesses get the world class connectivity they deserve."
Fibre broadband is the first step a business can take to future-proof their infrastructure and compete on a level playing field with companies around the UK and further afield."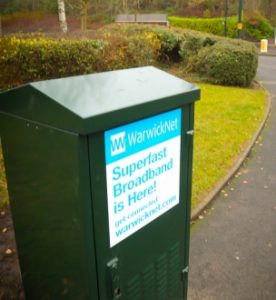 Councillor Jim O'Boyle cabinet member for jobs and regeneration added: "…it's great to see local player WarwickNet moving quickly and providing local businesses with the benefits of fibre broadband with reduced upfront costs.
"We know fast internet speeds are important in helping businesses stay competitive so it's great that we are part of this scheme that makes money available to small and medium sized business to improve their connectivity. I'd urge businesses to act fast and take advantage of the offer."
Businesses can then take advantage of pre-registered packages ranging from 100 Mbit/s to 1 Gbit/s in speed."WarwickNet said: "In order for this scheme to be a success, it's vital that suppliers get out of the starting blocks quickly so that businesses in the region can immediately start benefiting from this injection of funding. We're in a strong position in that we have done just that and are working around the clock to help local businesses get the world class connectivity they deserve."
Fibre broadband is the first step a business can take to future-proof their infrastructure and compete on a level playing field with companies around the UK and further afield."
---
Trending Now
You may also like