IT services firm Wavenet relocates HQ to Solihull's Blythe Valley
---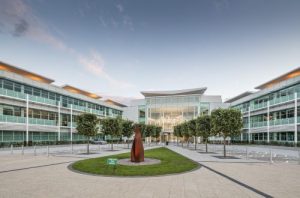 Technology communications company Wavenet is moving its headquarters from Birmingham to IM Properties' (IMP) Blythe Valley Park on J4 of the M42.
The relocation to Solihull is to accommodate its number of employees expanding from 40 to 70 over the last 12 months. Wavenet was established in Birmingham in 2000, and reached a turnover of almost £25 million last year.
The  10,633 sq ft office space at One Central Boulevard has recently undergone a £5 million refurbishment.
Wavenet supplies business telecommunication solutions, including Data, Voice, Cloud, Security and Mobile, and last year acquired Talk Internet and Swains to expand its presence across the UK and bring new features and benefits to new and existing customers.
IMP asset director, Rob Hemus, said, "Wavenet were passionate about having a new and modern space, where employees and customers could take advantage of the services and community that we offer here at Blythe."
Stewart Motler, operations director from Wavenet, said: "When we started looking for our new office, our top priority was finding an office that reflected our business as it is now and in the future.
"Whilst we did look at Birmingham city centre and the surrounding business parks initially, their location didn't fit what we were looking for. Blythe was our first choice from the start.
"As a company that puts pride in our mission to make businesses brilliant it was vitally important for us to find a brilliant location for our business, we believe we have that here."
"We believe Blythe will help both attract and retain the talent we need as a growing business, through its prominent location alongside an impressive list of businesses at the park."
---
Trending Now
You may also like