Zenzero provides new email solution for children's charity
---
A children's charity is set to provide more support for terminally ill children and their families after receiving an IT boost from a Warwick-based IT consultancy.
Zenzero, which specialises in IT support for over 100 start-up and SME companies, has gone the extra mile for Hatton-based Molly Olly's Wishes by providing new email solutions which have enhanced the charity's day-to-day operations.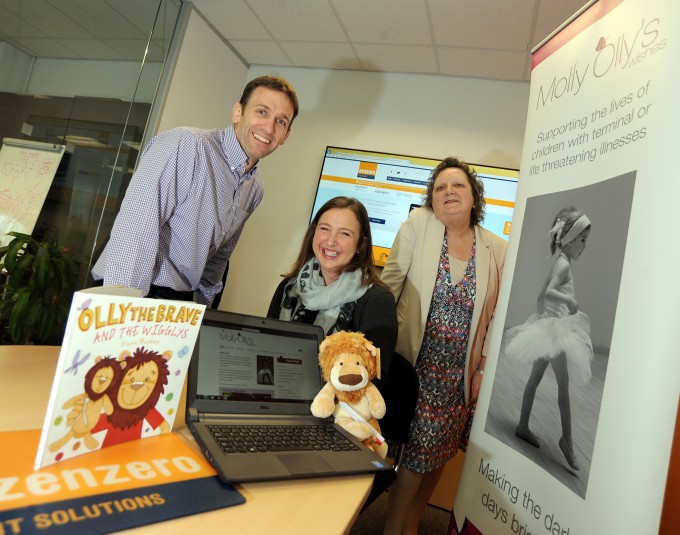 Will Brooks, commercial director at Zenzero, Rachel Ollerenshaw, trustee of Molly Olly's Wishes, and Karen Aston, University of Warwick Science Park centre manager.
IT had not been a priority for Molly Olly's Wishes – which supports children with terminal and life-threatening illnesses by providing wishes and therapeutic toys and books – when it was established in 2011, but as it has extended its support and breadth of services the team recognised a need for a more stable email platform.
The team approached Zenzero – which has been based at the Warwick Innovation Centre at the University of Warwick Science Park since launching fourteen years ago – for support, which the firm seized as an opportunity to extend their charitable horizons by providing the charity with IT solutions on a complimentary basis.
Working with Molly Olly's Wishes, Zenzero identified the best email provider for them as a charity would be Microsoft Office 365. Using this well tested platform would make access to the e-mail easier, give users the ability to share information and collaborate easily and importantly make data more secure.
Will Brooks, commercial director at Zenzero, said: "As we've expanded and grown our client base, we now find ourselves working with a number of charities meaning we're now experienced in that sector.
"When we heard the touching story behind Molly Olly's Wishes, we recognised a great opportunity to lend support for a fantastic local cause and are delighted the IT solutions have proved so effective.
"We look forward to continuing the charity partnership as we continue to provide them support on an ongoing basis."
Molly Olly's Wishes was launched by the family of Molly Ollerenshaw, who sadly passed away in June 2011 at the age of eight following a five-year battle with a rare type of kidney cancer.
Rachel Ollerenshaw, Molly's mother and trustee of Molly Olly's Wishes, said the IT boost has been a vital step in enhancing the charity's operations.
"As a small charity which is run from home, being accessible to supporters, beneficiaries and hospitals is essential," she said.
"We're entirely grateful for Zenzero's efficient help. Many of the families we support with book packs reach us by email and whereas before messages weren't getting through to mailboxes, now all issues are resolved we're able to give more children the vital therapeutic support they need to help them learn and cope with their illnesses."
Karen Aston, centre manager of the Venture Centre, added: "It is really rewarding to see a company which has been based at the Science Park since first setting up not just expand into a market-leading business, but also come full circle by reinvesting back into the local community.
"Zenzero is a shining example of the home-grown businesses based here which are consistently growing their names within the industry yet their roots and interests remain planted firmly in the region.
"We're delighted to have accommodated the business' growth for over ten years and look forward to hosting them in future as they continue to support the community."
---
Trending Now
You may also like