How Birmingham is competing with London on tech talent attraction
---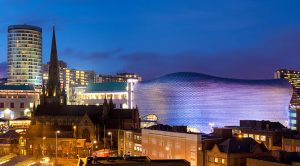 Within this regional growth agenda, Birmingham and the West Country are among the regions gaining ground on London and the south-east fastest of all, according to Office for National Statistics data. Between 2009 and 2016, economic output per head rose in real terms by 9.2 per cent in the West Midlands and North West of England. HS2 – the high-speed rail link between London, Birmingham, Crewe and Manchester scheduled to open in 2026 – alongside road investments are set to fast-track further the region's growth and help rebalance the UK's economy.
Within this vibrant ecosystem, Birmingham's digital infrastructure is proving just as critical as physical infrastructure to the city-region's growth. Less well-known than its big-name-led industrial and commercial base perhaps is that Birmingham is home to over 3,000 tech firms: the highest number of any of the UK's other ten Regional Core Cities – the collaborative interest group of Birmingham, Bristol, Leeds, Liverpool, Newcastle, Nottingham, Sheffield and Manchester.
This number has risen by 38 per cent in five years. The area's tech and digital sector now represents five per cent of businesses nationally and is the fifth-largest industry sector in the region. "Increasing numbers of tech and digital firms are locating and expanding here, attracted to the region's talented workforce and accessibility to other growth sectors such as financial services and life sciences," said Nicola Hewitt, commercial director at the West Midlands Growth Company. Perhaps also explaining these figures, Birmingham is a leading location nationally for new firms to venture out. For the fifth consecutive year, the city heads the list for the highest number of start-ups outside London. Also a testament to the entrepreneurial energy is more new inventions are registered here than anywhere else in the UK. Birmingham City University and the Regional Observatory's Tech & Digital Deep Dive Report further identify SMEs and micro-businesses – "born globals" looking to expand rapidly and "going globals" using domestic growth as a springboard to expand internationally – account for more than three-quarters of inward investment projects.
Talent available in the Midlands
With the right skills and talent frequently the number one factor in choosing an investment location, Birmingham has attracted inward investment from London, Silicon Valley, Germany and France. These include established US fintech specialist Lombard Risk Management and HR software specialist Allegis Global Solutions. Software company Oxygen Finance is another to have relocated to Birmingham in 2016. Explaining the decision, a spokesperson highlighted "affordability and access to skilled, technical staff" were the key drivers in what is a fiercely competitive market for tech talent."We're one of many businesses that have made the move, and with the investment and transformation of Birmingham showing no signs of stopping, we're confident that the city will continue to attract the highly skilled talent we need to support our growth and development."
An online poll commissioned by investment agency Business Birmingham highlights the UK's regions' attractiveness to people working in the IT and digital sectors. It finds close to one in five (17 per cent) are considering or are in the process of moving out of London. A further one in three says they could be tempted if the right offer came their way.
Birmingham is also shown in recent ONS figures to be attracting a greater number of people from London than any other regional city (6,510 in 2016). More are also moving into Birmingham than out of it (1,230 in 2016).With lower living costs, good leisure facilities and transport links, Birmingham's vibrant culture, start-up and tech scene is turning people's heads, especially for those wanting to get a first foot on the property ladder.
Can Birmingham sustain its digital advantage?
Analysis from Birmingham City University and the Regional Observatory predicts the tech and digital sector will grow by a further 14,000 roles from its current 70,000 by 2025 across the West Midlands Combined Authority area (WCMA), which includes 12 local authorities and three local enterprise partnerships.It notes that most jobs (55 per cent) in this sector are already in highly skilled and highly paid positions. With the UK's well-documented tech talent squeeze, this trend is likely to continue, seeing this figure rise to 91 per cent; exacerbated by the +nine per cent uptick in hiring intentions Manpower identifies in its regional analysis of Birmingham. Here the recruiter comments "candidates have more choice than ever before" with those seeking work "very aware of their own value and many can afford to pick and choose between opportunities – and are actively doing so."Nationally, talent demand is outstripping supply for engineers, data scientists, systems architects and developers in areas including cyber security, GDPR- focused services, data care and analytics, Internet-of-Things, cloud-based digital collaboration and mobility all niches Birmingham's businesses are making a name for themselves internationally. In December 2017, the Recruitment & Employment Confederation (REC)'s monthly Report on Jobs again cited cyber security roles as the hardest to fill due to candidate shortages, making it eight out of the past nine months.
Universities supply technology companies with employees
Birmingham has one of the strongest talent pools in the country. With 20 leading universities with a one-hour drive, the area produces 114,000 graduates every year, and over 40,000 students on business and technology degrees. Already, nine in ten West Midlands tech and digital firms recruit from this source. A new Centre for Cities report, Train, Attract and Retain: Increasing Birmingham's skilled workforces, published in February 2018, praises the city's ability to attract students to its premier higher education sector – of which it retains close to half after graduation. However, it also suggests the city
and its employers could do more to retain an even higher proportion of graduates by stemming the flow to London and the south-east.
Capturing opportunities for all
The Centre for Cities' proposes other solutions to talent scarcity by sketching out the impact of the changing economy on the young people educated in and around the city and Birmingham's workforce at large. The research and advocacy body's report identifies stubbornly high unemployment and low skilled workforces at levels above the national average. This aligns with the UK-wide and productivity-damaging picture of longstanding underinvestment in skills and training, and skills gaps. For truly sustainable growth and even stronger talent pipelines, another response to the tech talent challenge is to build even better links between employers and education institutes. Attracting more "high-knowledge businesses" to the city should also help redress the skills and opportunity imbalances, and ensure even more graduates stay in the city and wider region.
For now it seems, Birmingham is winning the reputational battle for in-demand tech workers, offering both sought-after global opportunities balanced with work-life balance and affordability.
---
Trending Now
You may also like