Birmingham service desk booming for IT Specialists, a nationwide MSP
Last updated on: March 1, 2017,
Author: R Sahota
Managed services provider IT Specialists (ITS) has announced the exciting progress of its Birmingham helpdesk which, in combination with the company's business continuity and disaster recovery services, offers clients, including Lyco Direct and Rockingham, services such as ongoing IT support and implementation of new IT infrastructure.
ITS has offices in Birmingham, Lutterworth and London and manages clients nationally. The dedicated provision was launched in mid-2015 and, thanks to experienced new hires and nationwide contract wins, the team has exceeded targets and is well positioned for further growth in 2017.  Contract wins include a nationwide haulier and a prestigious aeronautical company, while the team itself is made up of specialists offering ITS customers a range of IT support services in the Midlands region and beyond.
Matt Kingswood, UK head of ITS, said: "Huge congratulations to the Birmingham team. It's fantastic that we've been keeping businesses running in the area for more than 150 years (we are the continuation of a business that has been in Birmingham since 1896), and it's great to see IT Specialists as a part of the continued Longbridge-area regeneration. Here's to an even more successful 2017!"
Ongoing training is a key part of the Birmingham helpdesk's success and, as well as the new hires, existing ITS field engineers nationwide have benefitted from new certifications that expand their expertise on specific technologies from IBM, Dell, Lenovo and NetApp.
The helpdesk offers first-, second- and third-level teams to provide IT support nationwide and is supported by the efforts of the Lutterworth and London teams. The ITS team now stands at more than 200 people strong, spread over three offices, with just over half based in the Birmingham office.
ITS helps customers minimise downtime through various forms of IT support, hardware break-fix and disaster recovery services. ITS' wholly owned data centre facilities offers customers bespoke private cloud services with a single point of responsibility. This key feature means ITS can offer clients a degree of security and visibility that many cloud providers cannot match.
A customer since 2009, Lyco Direct uses the helpdesk as part of ITS' 24/7 disaster recovery as a service (DRaaS) platform, BlackVault Managed Recovery Platform, which reduced Lyco's data recovery time from less than eight hours to less than two hours. Speedway track Rockingham benefits from the trained helpdesk staff's ability to always be on top of the business's growth requirements, helping it set up and manage new serviced offices on-site.
In 2016, ITS launched BlackVault Guardian, a managed firewall service that is offered as part of the BlackVault Managed Recovery Platform, which provides affordable off-site data vaulting and DRaaS. As a managed service, BlackVault Guardian allows ITS' helpdesk to manage clients' equipment and system settings remotely.
The business is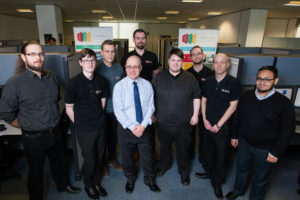 part of global IT software and services provider Reynolds and Reynolds, a firm that employs over 4,300 people worldwide.
For more information, please visit www.itspecialists.uk.com or contact us at 0800 028 7993.