Celebrating Midlands women in tech for International Women's Day
---

The Midlands is home to a growing technology sector and in celebration of International Women's Day, we spoke to some females in the regional tech sector to understand how they have succeeded, obstacles they faced and opportunities and advice for women to achieve gender balance and speed up cultural change in the male-dominated tech industry.
From MDs to hands-on techies and educators, we hope you agree that women in tech have come a long way.
Be confident like Kirsty Sheppard, Server Support Engineer, OGL Computer
Kirstie has always been interested in computing and technology. When she was at school, it was her favourite subject to learn and she ended up carrying on my education in IT through college and then university, where she gained a BSc (Hons) in Computer Information Systems.
After graduation, she explained "I never really felt confident enough to just jump straight into an engineering role. I'm not sure if it was because I was aware that it was a very male-orientated role or if it was a confidence issue in general. So I got my "foot in the door" at an IT company and started in the purchasing department. It was a good experience for me because I was able to bring my computing knowledge to the role. It took me a few years to build up the confidence to make the move over to the engineering side of the business, but I feel like I have taken it with both hands and moved up in my roles from a first line engineer to now being a server engineer. It is still a male-orientated field, but it is good to see more and more women applying for and being offered these engineering roles."
Her main advice to any women wanting to get into technology would be to "just be confident and go for it", otherwise you may end up "playing "catch-up" with being out of the field for a few years and how quick technology changes nowadays."
Championing women in testing, Sharon Hamilton, MD of Edge Testing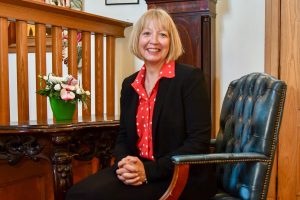 We spoke to Sharon separately about her journey to the helm of a 260+ strong company, and a key point she made during that interview, was that "there should be no difference between males or females taking up a career in IT, however sadly there are still fewer women in our industry.
"Woman and girls need to be encouraged and educated that there are diverse roles in IT and we also need to ensure they have strong role models that they can identify with. The whole industry needs to bear responsibility and present the job opportunities as gender neutral."
You can read Sharon's interview in full here.
Find the hackers with Stephanie Haynes, Cybersecurity Analyst at HORIBA MIRA and Former Apprentice at QA
Stephanie choose a cyber apprenticeship (a sector with a very low proportion of females) and quickly immersed herself in the world of malware, cyberattacks and ethical hacking. Excelling from the off and continuing to progress quickly, Stephanie completed her programme as the UK's first female Cyber Security Level 4 apprenticeship achiever, securing a full time position as a Cybersecurity Analyst at Engineering firm HORIBA MIRA.
After this, Stephanie's 2019 continued to gain pace as she won two awards recognising her achievements – Computing Rising Stars Awards: Security Apprentice of the Year Winner and Woman Who Achieves Awards: Rising Stars Winner.
When asked about her hopes for women in tech in the future, she responded: "I'm hoping that we'll start seeing a much more varied group of people in tech in the future and it would be great if we could get more women in the field, of all ages and backgrounds. It would be fantastic to get the message out there that tech is a viable career choice for everyone, and if sharing my experience with QA and HORIBA MIRA helps that then that's a start. Regarding cybersecurity specifically, the stereotypical portrayal of a hacker as a guy in a black hoodie sitting in a dark room needs to change – anyone can learn these skills, just preferably using them for good!"
"If you're considering a career in cybersecurity, definitely check out what QA has to offer. We need a more diverse field – currently, around 20% of the global cybersecurity force is made up of women so we can certainly improve on that. Cybersecurity has excellent role progression potential too, so positions in senior roles are attainable.
Diversity is super important because if we have similar types of people working on all the problems, blind spots can arise, and mistakes can be made. Different ways of thinking and different approaches to problems can help make cybersecurity even more effective – for example, women are more likely to think about things like online privacy issues that may not otherwise be considered as much.
And given the deeply diverse and complex nature of attacker behaviour, we need the defenders of the future to be the same: with an extensive range of backgrounds, skills and approaches to problems. This will allow the cybersecurity field to work on levelling what is currently a very unequal attacker-defender balance. By choosing cybersecurity as a career, you will be contributing to that, and that is huge!"
Promoting tech roles for women with Mary Sansom, Director, Brand and Candidate Attraction at QA
Mary looks after all things brand and candidate attraction.
"At QA, we work hard to bring more young women closer to realising a career in tech. Whether that's making a conscious effort to market our tech programmes to women or partner with schools, colleges and organisations like Stemettes to capture the imagination of young women across the UK from those initial key stages. We're seeing results too with increasing numbers of female applicants and starts on our technology programmes.
"When you consider there is a growing tech skills gap in the UK which costs our economy billions in GDP each year juxtaposed with a low percentage of females in tech- the solution seems obvious- get more women in tech!"
Networking works with COO Sarah Dowzell at Natural HR
Recent winner of the West Midlands Woman in Tech Award, Sarah Dowzell is co-founder and COO of fast growing Birmingham based HR software business Natural HR. Sarah is passionate about encouraging more women into tech and being a champion for women in the workplace more broadly.
"To make the most of working in tech, build a network of peer groups
that you can rely on for advice, guidance and support. When I founded Natural HR, I didn't realise how supportive the women in the tech community are. Now, I regularly attend events that champion and bring together women in tech from across the Midlands. They have proven invaluable to my personal development as a woman in tech and a business owner. Not only are they great for networking and getting new contacts but it's also really empowering to be in a room surrounded by inspirational women forging their own ways in the tech industry."
Tech support from Sonia Sidhu at RDS Global
Customer service assistant at RDS Global, Derby, Sonia explained her road into tech:
"It was a bit of a jump into this because I'd never done anything in IT before. There aren't many women in IT at the moment, but once you are into it, it becomes second nature, and you become proud to be in IT.
At first, the calls I would get would be people saying 'can you put me through to someone in support?' I'm assuming because I'm a woman and they're assuming I'm not in the support team and they just think I'm someone answering the phone.
"I'm the only woman in a team of 11. At first it was quite daunting, but now it's not so unusual.
"My advice to other women thinking of going into technology is just go for it. It's nothing to be nervous about. If you want to do it, absolutely do it. I feel it would be a good choice for anyone who wants to do it."
Be condifent says Leanne Bonner-Cooke, founder and CEO of e-bate
Leanne doesn't think the situation has changed that much, particularly in the enterprise tech space. Many investors have the image a successful technology leader is associated with a male. This can be seen by the level of investment going into female tech businesses, in the VC world across Europe only 8% of funds went into female owned businesses. So, women tech founders have it tough and more efforts are needed to transform the stereotypical image of a tech leader and give more visibility to female entrepreneurs and their companies. Only once we start to redress this balance will we encourage more female entrepreneurs to start their own businesses.
In terms of succeeding, Leanne believes that we must increase our visibility and be as good of if not better than our male counterparts. "Get the components of your pitch spot on and practice amongst your peers to get feedback. Be confident, I have seen so many females that have great ideas but are not confident when delivering or challenged, you are as good as anyone else. We also are typically pitching to males and there is unconscious bias, until we get diverse panels that we are pitching to I believe it will continue to be tough. There are now female led tech funds which is also great as you are pitching to likeminded people."
Leanne runs an Inspirational Women in business event, which isn't specifically about tech, but encourages women in business to believe in their own abilities and to celebrate achievements.
She also belongs to WeConnet which identifies, educates, registers, and certifies women's business enterprises that are at least 51% owned, managed, and controlled by one or more women. WeConnect then encourages women to work with each other and promotes diversity to their corporate members.
Investing in technology start ups and scale ups with Sandy Reid, Investment Manager, Mercia Asset Management PLC
There is definitely more awareness of the disparity in investment going to female founding teams and that awareness has translated to investors looking more closely at how and where we source deal flow. The result has been an increase in investment going to female founding teams but there is still a lot of work to do.
Women leaders don't need to run their businesses differently to succeed but they do need to connect into the professional advisors and informal networks that provide warm introductions to investors more effectively. The other big change is the increasing number of female investors, hopefully the days of pitching to a room full of men has gone, it certainly has at Mercia!
Tech for everyone with Elizabeth Edrop at School of Code
The School of Code's mission is to get more and different types of people into technology, including helping to close the gender gap in tech. Its FREE coding bootcamp takes people from absolute scratch through to professional developer, and helps them into their first tech roles. All cohorts are representative of the local community, including a 50/50 gender split. Liz says "We've helped people from all backgrounds (from unemployed, return to work mums, teachers, bakers, hairdressers, and more) achieving 90%+ employment. We're proving that tech should be for everyone, and given the right opportunity people can thrive in tech."
Leane Parsons – Network Projects Team
Leader at Node4

Leane originally joined Node4 as a 'Cloud Team Leader', but has since transitioned into the 'Network Projects Team Leader' role where she works in an agile manner to enable engineers to deliver provisioning and project work to internal and external
customers.She says: "We're seeing more female tech heroes starting to emerge on the scene, inspiring new generations to start a path in these roles and industries. With the changes to legislation allowing equal pay, equal rights, and the increasing visibility of female C-Suite execs, I believe the industry is starting to look far more attractive to women."The balance of skill-sets between male and female perceptions
can only enrich the industry, and I believe a new wave of female
gurus will take more of a frontline position."
Increasing female board members at Advanced
Sally Scott who is CMO at Advanced – the UK's third largest provider of business software and services. Sally lives in Market Harborough and works from Advanced's office in Birmingham.
"There are many misconceptions surrounding technology that can deter people from entering the industry. While it's not all about gender, we must acknowledge and address the huge shortage of women in technology. A diverse range of talent is critical to business success but, sadly, only 12.6% of board members in the sector are women – compared to 30% across FTSE 100 company boards as a whole. At Advanced, we are challenging this lack of diversity. A third of our board members are women (of which I am one). We need more businesses like Advanced with more female board members."
Melissa Snover, Founder and CEO of Nourished believes in Birmingham
"Birmingham is a fantastic area for women to pursue a career in technology. I founded Nourished in Digbeth due to its prominent start-up culture and proximity to local universities which offer some excellent 3D printing courses. As a start-up that has developed and utilized patented 3D printing manufacturing, this is really useful and allows us to both support local education institutions by hosting seminars and get advice from them on some of our more complex developments. There is also an incredibly supportive community which promotes tech businesses, including BCU's STEAMhouse and Fizzpop, as well regular events held by Silicon Canal which champion innovators in the West Midlands area."
Emma Davies-Carolan, Director of Marketing, Europe, ECI Solutions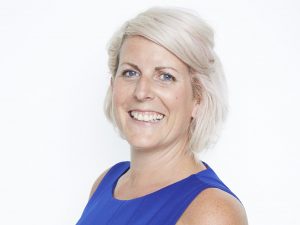 There is still some way to go as an industry to ensure more women find a career path in tech. Currently, 23% of the UK's tech workforce are women and only 5% make up leadership roles – if we continue to celebrate and recognise those women that are having a big impact and leaving their mark in tech, it can only help towards bringing more opportunity and encouraging more women across the country to really see it as a viable career.
I think like with any line of work, if you have ambition, a positive mindset and determination – that is matched by the right culture in your workplace – you can have a really successful career. And with tech comes the genuine chance to really innovate and have a big impact on customers, businesses and people.
At ECI Solutions, which has its European headquarters in Lincoln, there are amazing opportunities for women who work and want to progress their career in tech. Whether that's in product development, delivery, research, marketing or sales.
We have many great success stories here in the Midlands alone. Our Director of Customer Success, M1 Europe, Penny Coleman has been with ECI more than 6 years and worked her way from professional services manager to the position she holds now – and Kelly Priestly is one of our project managers who continues to deliver exceptional results. In the past 12 months, I've been promoted to Director of Marketing, Europe as well as now overseeing marketing activity in Australia, where the business has recently expanded in – so it's great to be part of a business that rewards success no matter who you are.
---
Trending Now
You may also like