CyberGuard Technologies protects SDI Displays against security threats
---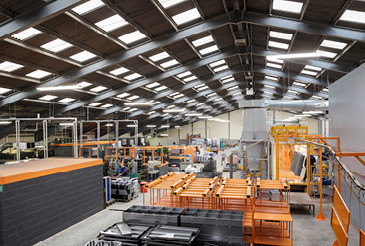 Loughborough-based SDI Displays, a manufacturer of retail and visual merchandising equipment, has invested in a suite of cyber security technologies to ensure its business and data are protected against cyber threats.
The multi-million pound company creates, manufactures and installs point-of-sale and retail display solutions for some of the UK's biggest brands and retailers, including Marks & Spencer, Tesco, Dyson and Heineken.
After the opening of a new joinery facility in 2018, and recently completing projects with Dior, Boundary Mill, Top Shop and Oasis, SDI Displays' Managing Director, Ian Wright, wanted to protect his business. He explained: "Any business that thinks cyber-crime won't affect them is burying their head in the sand. As a business we rely more and more on IT for communication with our customers and suppliers, so it has become ever more important to protect our data and IT systems. With the wider and more common threat of cyber-attacks and ransom requests, it soon became apparent that we needed something more secure and proactive, rather than being reactive."
Having been in business for 40 years, SDI Displays' head office hosts a full-scale manufacturing plant and offices where its 110 employees are based. Recognising the need to take its cyber security to the next level to stay ahead of attackers, SDI Displays turned to CyberGuard Technologies, a division of OGL Computer, its technology partner for over a decade. CyberGuard Technologies undertook a thorough security audit before recommending a number of changes to strengthen the SME's business, protect its entire supply chain and ensure the company remained fully operational at all times.
Having previously used a Kaspersky anti-virus, which does not stop employees from downloading and installing software that could be harmful, SDI Displays installed Carbon Black Defense as it could make the SME aware of malicious content, via proactive monitoring. Carbon Black Defense also offers endpoint protection, looking for known viruses and malware along with inspecting files and identifying threats by analysing user behaviour. It alerts SDI Displays to employees trying to download and install malicious content, through them requiring authorisation from a second source.
CyberGuard Technologies also installed a virtual recovery solution that backs up the company's data and information in case of a disaster. SDI Displays has yet to use it, but knowing it's there is important for the company's business continuity/recovery plan. If there is a server outage for whatever reason, SDI Displays can be back up and running within 24 hours.
Colin Dennis, Head of Cyber at CyberGuard Technologies, commented: "While many smaller businesses don't think of themselves as a prime target for cyber-attacks, they are in fact a growing target as hackers believe they will have weaker IT systems in place and could be used to bring down larger organisations through their supply chain. This is why more and more SMEs are implementing security measures previously only ever considered, or entirely overlooked."
"A next-generation anti-virus, like Carbon Black Defense, is essential as it proactively monitors everyday IT communications so employees can no longer be an insider threat. Cloud recovery is another key safety measure as it offers reliable recovery of business data, minimising the effects of an unfortunate or unforeseen disaster and giving savvy companies like SDI Displays complete peace of mind." 
CyberGuard Technologies – Raising Visibility, Managing Threats
CyberGuard Technologies (an independent company within the OGL Computer Services Group which has been in the technology business for over 40 years) provides the very best in IT security for UK businesses looking for premium IT performance in a protected, secure environment.  Our cyber defences protect against the potential devastation of an attack from cyber-criminals including defending your finances, identity, reputation, data and your customers' confidential information.
We protect our customers from end-to-end through; Security Testing, Managed Detect & Respond Services, Security Awareness Training and Cyber Certification, and provide reassurance in the event of an attack through fast and effective Cyber Incident Response, built upon sound threat intelligence gathered by our own team of cyber analysts coupled with intel from various global sources.
For more information: www.cg-tech.co.uk
---
Trending Now
You may also like