Education technology company Schoolzine opens Stratford office
---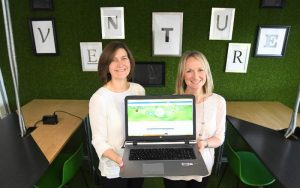 Schoolzine, is a digital communications platform for schools which provides e-newsletters, websites and apps, and now has an office in Stratford-upon-Avon.
UK CEO Emily Halderthay manages operations in the UK and Ireland and works closely with the company's founder and chief executive Phil Reardon in Australia.
Schoolzine is used at more than 1,000 schools in 19 countries across the world.
The five-strong UK team is based at Venture House, Stratford-on-Avon District Council's business centre which opened on the Avenue Farm Industrial Estate in Birmingham Road in 2016.
Halderthay had initially set up Schoolzine from home in Stratford before visiting Venture House.
"I lived over in Australia with my family for three-and-a-half years and I had a chance meeting with Phil who was looking to expand into the UK and we were planning to come back to the UK," she said.
Schoolzine offers tailored packages for schools to communicate with parents and the cornerstone of the business is e-newsletters to enable schools to build relationships with parents and keep them up-to-date with all the information they need.
"It is a competitive market in the UK where we work with over 50 schools and we have adapted our packages so schools can take up different elements whether that is the e-newsletter or app, and we offer excellent packages for local schools in Warwickshire," Halderthay said.
Halderthay explains the move from hom to Venture House just over a year ago.
"We wanted to employ more people so we needed offices and I was delighted with Venture House and the facilities and flexibility it provides," she said.
"It is a great place for supporting new businesses and although we are a UK division of a bigger company, we still have the same challenges of securing clients.
"We have expanded into a bigger office and we can use the meeting rooms for client meetings plus there is car-parking so this is a fantastic base for us."
---
Trending Now
You may also like