Warwick uni manufacturing group opens centre of AI expertise
---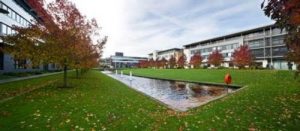 The manufacturing department at the University of Warwick is opening a centre to allow the industry to allow businesses to collect and handle large volumes of digital information, with the aim of gaining competitive insights through artificial intelligence methods.
The Warwick Manufacturing Group (WMG)'s Centre for Applied Artificial Intelligence will be contained within the university's existing buildings, and led by professors Giovanni Montana and Mehrdad Dianati, working with other experts involved in intelligent vehicles, cyber security and digital healthcare.
WMG says the industry's challenges include "capturing, curating, anonymising, searching, analysing and visualising massing volumes of data" as traditional data storage, management and processing tools become inadequate.
Dianati from Intelligent Vehicles (IV) Research at WMG said the centre will help overcome the challenges presented by fully autonomous vehicles as they move from concept to commercialisation.
"This includes, technical solutions, which will enable safe, efficient and secure connected autonomous vehicles," she said.
"These are critical factors for ensuring consumer acceptance of autonomous vehicles. WMG hosts a wide range of unique IV research facilities and internationally renowned for its research in this area.
"Currently, a portfolio of projects are underway with over 15 major automotive manufacturers, including Jaguar Land Rover and highly innovative small and medium-sized technology companies."
---
Trending Now
You may also like