EE switches on 5G mobile network in Solihull
Posted On December 6, 2019
---
EE has switched on 5G in Solihull, and customers in the area can now receive the latest mobile network technology.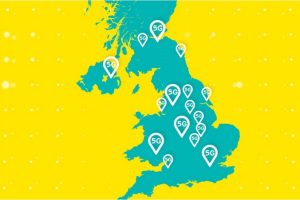 The town is among the first places in the UK to receive EE's 5G network, as independent tests from RootMetrics reveal it has the best performing 5G network, with the most coverage, in London, Birmingham and Cardiff.
EE was the first to launch 5G in the UK when six cities were switched on in May, including Birmingham.
The arrival of 5G in Solihull means people in the town are among the first in the country to benefit from the technology, which is set to revolutionise the way we live and work
Marc Allera, chief executive of BT's consumer division, said: "Switching on 5G in more places is helping us deliver the best mobile experience to our customers, keeping them connected to the things that matter most.
"RootMetrics' early 5G testing shows that we are a long way ahead in terms of 5G performance, and our engineers are continuing to build new sites every day, on our journey to keeping our customers connected 100% of the time."
Wendy Sycamore, BT Group regional lead for the Midlands, said: "It's great to see Solihull amongst the first locations in the UK to welcome 5G. The new technology will enable a faster, more reliable mobile connection for both consumers and businesses in the area and is set to play a pivotal role in our lives."
Paul Faulkner, chief executive of Greater Birmingham Chambers of Commerce (GBCC), said: "We really welcome the continued rollout of 5G, and are particularly pleased that Solihull is among the first towns to benefit from this technology.
"Solihull has its own Chamber of Commerce, which is part of the GBCC group, and is an area made up of hundreds of industry and world-leading organisations which will prosper from the rollout of the network.
"As more cities and towns across the West Midlands shift to 5G, all kinds of businesses will operate with enhanced productivity, connectivity, efficiency and output as a result.
"The Chamber views 5G as a great asset for businesses, and we're looking forward to seeing businesses reap the benefits of this game-changing technology."
---
Trending Now
You may also like