Intercity Collaboration to close Birmingham skills gap
Posted On February 27, 2019
---
IT specialist partners with Ahead Partnership to improve Birmingham's tech sector pipeline and diversity of talent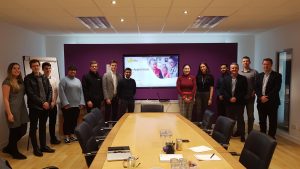 Collaborating with social enterprise, Ahead Partnership, Birmingham-headquartered IT specialist, Intercity Technology, will work to enhance the employability skills of local young people through a range of initiatives, including a volunteering programme and work experience scheme.
Initially, up to six students aged between 16 and 18 will take part in a pilot of the work experience scheme, which will involve training, shadowing employees in the Intercity Technology Birmingham office, and gaining hands-on experience of roles across the business.
Following this pilot, Intercity will roll out a fully-structured programme where students will learn new skills and gain insight into what it's like to work in the tech industry.
This is just one of many collaborations facilitated by Ahead Partnership as it works to connect employers across the public and private sector with education partners to promote social and economic change.
Andrew Jackson, CEO at Intercity Technology commented: "We're always looking for new ways to invest in future talent in the region, especially in the tech sector, and we're immensely proud to be working in collaboration with Ahead Partnership to push this even further. Giving young people first-hand experience of the tech sector is a great way to get them excited about the opportunities the industry has to offer. It's only through this engagement and investment in talent that we will be able to further reinforce Birmingham's position as a leading tech hub, and draw even more attention to the exciting work happening in the region."
Stephanie Burras CBE, chief executive of Ahead Partnership said: "We are delighted to have Intercity's support to help raise the profile of careers in digital across the West Midlands. Given the region's aspiration to become a global digital hub, it is crucial that we act now to develop a pipeline of talent. The programme of activity that Intercity has put in place will show young people what is on offer through a set of really engaging activities focused around the workplace."
Andy Street, Mayor of the West Midlands added: "Bridging the skills gap is an ongoing challenge for the region, but through collaboration between businesses, social enterprises and educational institutions, we can make significant progress. This is particularly important when it comes to the future of our city's rapidly growing tech industry, so it's great to see Intercity Technology and Ahead Partnership joining forces to give aspirational young people the chance to gain valuable work experience and develop their technical skills."
---
Trending Now
You may also like