New games company launches in Leamington's Silicon Spa
Posted On September 13, 2017
---
Well Played Games has been by colleagues who were all previously at Exient in Leamington.
Adam Wells and Rich McClaughry have managed the new business set up, but the formation of the company as very much a team effort by colleagues who were all made redundant when the firm scaled back its UK operation.
After a meeting with the Coventry and Warwickshire Chamber of Commerce, they decided to set-up Well Played Games and bring back together the team that previously worked on games such as Angry Birds Transformers, which has been downloaded more than 75 million times and generated more than $20m of revenue.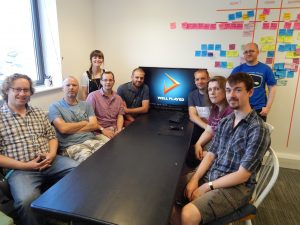 Rich said: "We had enjoyed great success with Exient and when we were all made redundant, we could have gone our separate ways.
"But we had worked together as a team for around four years and we knew we had a really good blend of people. It sounds corny, but we were like a family.
"Adam and I had the idea of setting up on our own and discussed it with the rest of the group. We had worked with Helena Bassett at the Chamber previously and decided to get in touch once we knew we wanted to set up in business.
"Helena, an adviser at the Chamber, gave us some great advice in getting started and she's given us some really good opportunities to apply for grant funding. We attended events and really got to grips with the idea of launching on our own.
"On top of that, we've also spoken to Parminder Hayer in the international trade team and he's helping us to access key international events to help take us overseas.
"The support has been really valuable and I am sure we will tap into it more and more as the business grows."
In its first three months of trading, Well Played Games has turned over £200,000 and is now looking for further investment to help the company grow further.
Rich added: "We've been working with another local developer and we are confident that we can bid for and win new business right across the world because of our track record."
Helena Bassett, a business adviser at the Coventry and Warwickshire Chamber of Commerce, said: "The team are developing an exciting company but, like many others in different sectors, they just needed some guidance on business planning and operations – and that's exactly what we are here for.
"The support we have given has helped to create ten, high-end jobs for the area and I wish them every success for the future."
Well Played Games accessed support and advice through the Coventry and Warwickshire Business Support Programme. The programme is funded by the European Regional Development Fund, in partnership with Coventry City Council, Warwickshire County Council and the District and Borough Councils.
---
Trending Now
You may also like