Hedgehog Lab and Fuse Telecom scale up at Generator Studios
Newcastle's Hedgehog Lab has expanded its headquarters at the Generator Studios after posting a huge rise in sales.
The technology consultancy, which boasts offices in London, Boston, Austin, Denmark and India, has leased space extending to 7,500 sq ft having outgrown the initial 1,700 sq ft of space acquired in 2012.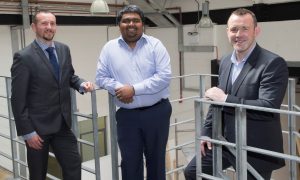 The additional space is a result of rising revenues, which increased by 300 per cent last year.
Communications provider Fuse Telecom has also taken further space at Generator Studios.
Aidan Baker, director in BNP Paribas Real Estate's Newcastle office, said: "The acquisition of further space by Hedgehog Lab and Fuse Telecom illustrates the accommodation's flexibility, affording expansion opportunities that are rarely available within city centre space to companies of all sizes.
"The studio offices continue to prove popular to a wide variety of occupiers, with only three suites totalling 5,500 sq ft available."
Jamie Mableson, investment director at Metnor Property Group, added: "We are delighted that both Hedgehog Lab and Fuse Telecom have decided to expand their presence within Generator Studios.
"The building has won several awards for its contemporary design and innovative working spaces and continues to be popular with a range of businesses."
Generator Studios is owned by Metnor Property Group and offers a range of small to large suites.