OGL Computer's Profit4 roll out to accelerate digital transformation
Posted On January 25, 2021
---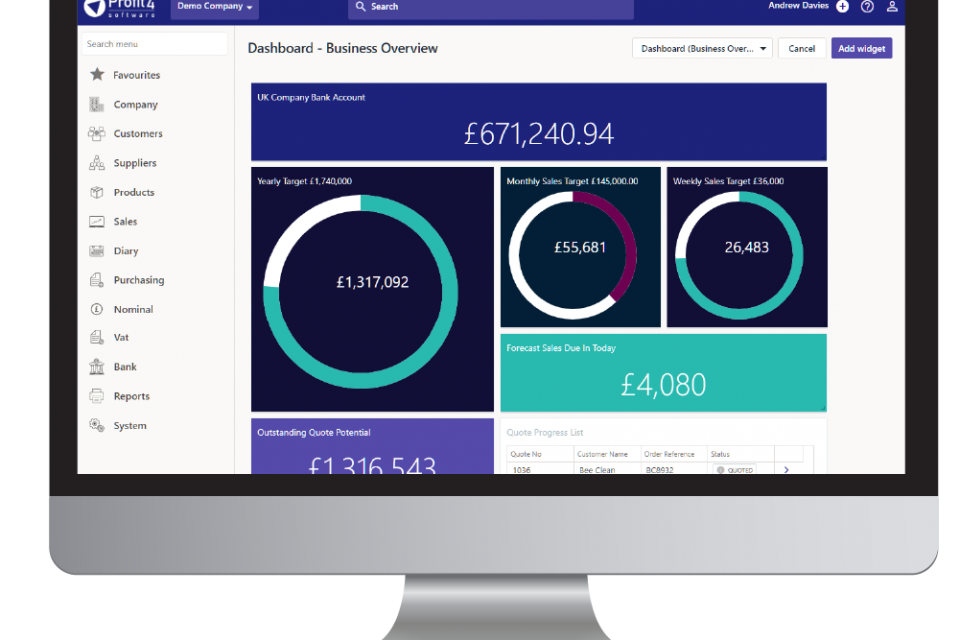 OGL Computer has announced the launch of Profit4, a new business and stock management software that enables users in wholesale, merchant, stockist and distributor businesses to accelerate digital transformation efforts ready for what is likely to be a difficult year ahead.
Changing customer demand, working patterns and supply chain disruption in 2020 has exposed weaknesses in the technology used by trade businesses across multiple industries. Now with Profit4, companies can digitally transform their operations, reduce risk by having complete visibility of business processes and data, while streamlining operations to reduce cost.
With UK based software support and development teams, Profit4 addresses the problem of how to quickly adopt and realise benefit from business software that supports multichannel selling. A typical full Profit4 implementation takes as little as 3-4 months, offering a quick ROI, compared to a traditional on-premise business software alternative which can take up to 12 months.
Based on 35+ years of knowledge and expertise in the software and stockist markets, Profit4 is OGL's new, next-generation, browser-based business and stock management software solution, which helps customers break away from manual processes and stay ahead of the competition in an ever-changing industry.
Many business and stock management solutions fail to deliver on their promises as they can be difficult to understand and use or need customisation that is expensive to change as the business grows.
Profit4 offers the simplicity of an off-the-shelf product with the benefits of controlled and easy-to-implement customisation. Through the unique Profit4 Delivery Framework, user onboarding is quick and simple as every facet of the new software is built around roles and user requirements.
Profit4 gives users control over how they use and configure the system without the need for third-party help. Indeed, its quick and easy-to-use features have been tried and tested during beta trials, and enable users to easily configure reports, workspaces, dashboards, and data fields to suit their needs.
This is good news for growing businesses, as Profit4 can be adapted and changed by the business,as and when it is needed.
The easier a software product is to use, the more likely employees are to fully embrace the system and maximise its capability to better the business. During beta testing, OGL put particular emphasis on ensuring that Profit4 is easy-to-use through intuitive and predictable navigation, intelligent defaults and consistent organisation of information that together provides users with a better experience.
Nick Davies, Head of Software Development at OGL Computer, comments: "Profit4 provides all the necessary features to successfully run a business without the need for bolt on products or extras. We recognise that even the smallest business may need the most complex feature set so we provide a standard, comprehensive system usable by both the least and most demanding businesses.
"When implementing a new business and stock management system, blended learning is key to accelerating digital transformation – user evaluation, focussed remote training and class-leading support systems make the journey with Profit4 a joy rather than a challenge."
Taking the very latest technologies including React and GraphQL, OGL has designed a feature rich application with an intuitive user experience. Flexible and fast deployment options in the cloud or on premise are possible using Microsoft Azure and Docker technology. Profit4 also has an open API which supports integrations with specialised applications if required which enables ultimate flexibility.
Profit4 is built around the common and niche challenges that wholesalers face, as OGL's focus and expertise lie solely within this industry. Key features include:
Contact Management: Prospect, Customer and Supplier data – stored in a centralised database to ensure access to accurate and up-to-date information, track sales opportunities and offer personalised, efficient service will a fully integrated CRM solution.
Multi-Channel Sales Order Management: management and automation of order processing throughout the sales cycle, from enquiry and quote to purchasing stock, picking the products, dispatching using carrier integration and delivery.
Integrated eCommerce solutions – full integration of eCommerce websites, eBay and Amazon shopping channels enables synchronisation of stock, pricing and customer data between Profit4 and online sales channels.
Intuitive and specialised trade counter interface – enables quick and easy customer service with full integration to CRM, stock levels, purchasing, pricing and invoicing.
Stock Management & Purchasing: real-time stock levels, automated purchasing, pricing structures.
Finance & Accounting – ICAEW accredited, the module helps users gain a true and accurate representation of finances and cash flow with a fully integrated accounting functionality that connects your stock, purchasing and sales orders.
Reporting & Analytics across the entire business.
OGL works in partnership with customers to ensure they are fully accompanied from pre-sale to support. The Implementation Team guides them through configuration, data transfer, training and go live ensuring they are confident at every step of the journey. Customers also have a dedicated Account Manager who contacts them regularly to provide advice on how they can get more from the software to maximise return on investment but also help to keep them focused on the software functionality that will help them grow their business.
Nick Davies, Head of Software Development, at OGL concluded: "When developing Profit4, our vision was to retain the wealth of business knowhow forming the bedrock of business applications that were the precursor to Profit4 and design a user interface which would delight.
"And we think it has! Taking the very latest technologies, the team has created a feature rich, fast, and easy to deploy application that can be run in the cloud or on premise.
"However, we didn't just focus on the application. Stories of failed software implementations abound in the industry, so we set about designing a way to transform the processes of getting business from day 0 to day 1 – perhaps even make it enjoyable!"
---
Trending Now
You may also like