OrderWise ecstatic over Digital Business of the Year Award
Last updated on: May 4, 2016,
Author: Editorial Team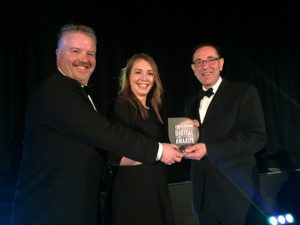 Specialist software provider OrderWise has been named Digital Business of the Year at this year's Lincolnshire Digital Awards.
Guests at the ceremony, held last night (Thursday) at the Engine Shed in Lincoln, heard about how the company has developed industry-leading software and training platforms, via a pre-filmed video featuring Sales & Marketing Manager Jon Roberts. It also showed how the Saxilby-based firm has developed both its staff and systems to deliver all its services in-house.
Accepting the award, Director David Hallam said: "I am immensely proud to accept the title of Digital Business of the Year. This is an award for all the remarkable and highly talented staff in the company. Everyone has worked incredibly hard to make OrderWise the amazingly successful business it is today. It's wonderful for us to be recognised for our efforts."
OrderWise is a comprehensive all-in-one software solution for managing online and offline sales channels, customer relationships, stock control and warehouse management, purchasing, manufacturing and accounting activities.
Jon Roberts, added: "We are so pleased to have won the award. We were confident in our nomination and the support material we offered, but to win is something else. Congratulations to all the staff at OrderWise."