School of Code to pitch at global investment competition
Posted On October 10, 2017
---
School of Code, a young Birmingham company, which teaches people how to write software coding has won a trip to New York to pitch for new investment and the chance to work in the US.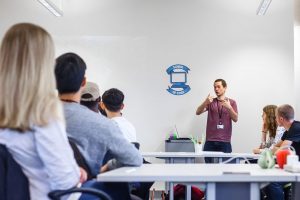 Launched just over two years ago, the company has created an online multi-player platform which uses teamwork and collaboration to teach users to code as they play. It has just started running its first 16-week 'bootcamp' in the city to help people learn coding.
The firm has now won a trip to New York in November through a global competition called 1776 Challenge Cup whose purpose is to find companies which offer products and services capable of tackling complex issues and bringing about social benefit.
School of Code's pitch was delivered by marketing lead Nicola Cronin and was chosen ahead of eight other companies at one of two UK heats.
There will be 75 different companies pitching at the New York event to a panel of investors and policy makers.
Although no details of this year's prize fund have been announced, previous winners have received around £37,000.
Chris Meah, founder of School of Code which is based at Innovation Birmingham Campus, said: "We are thrilled to have made it through to the global final of the 1776 Challenge Cup.
"Entering competitions such as a 1776 offers us priceless exposure and the trip to New York will enable us to reach the kind of wide audience we could only ever dream of.
"We're looking forward to getting out there and spreading the message about what we can do and offer."
He added: "Learning to code is often hard, dull and, most of all, lonely.
"This means only certain types of people make it through – those well suited to this lonely journey or those with support around them.
"We are making learning to code fun, social and accessible to everyone with our online multi-player coding platform.
"Coding is part of the curriculum now but many teachers are still petrified of bringing it into the classroom. It is difficult to teach real-world coding skills and engage kids of all abilities."
Entrepreneurial Spark, a national business hub aimed at helping early stage companies grow, hosted the two UK pitching events at its bases in Birmingham and Manchester.
---
Trending Now
You may also like