Seven graduates Birmingham comms and IT firm Intercity Technology
Posted On September 12, 2016
---
Birmingham comms and IT specialist Intercity Technology has announced the appointment of seven graduates to join its telemarketing and sales team.
The new recruits were whittled down from 50 graduates and selected following a rigorous assessment day held in conjunction with Pareto Law, the UK's largest sales development company.
The seven new recruits will now kick-start their careers in Intercity's bustling sales and telemarketing department. As part of their new roles, they will be respons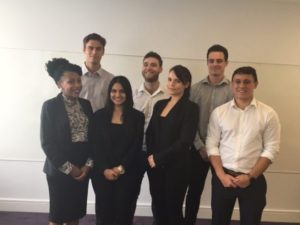 ible for maintaining positive customer relations, advising customers on which solutions best suit their business as well as identifying and developing new business leads.
Sonia Hall, group HR director at Intercity Technology, said: "As a business, we are continually looking to expand and support our talented team, giving them important responsibilities and ongoing training which enables them to grow on both a professional and personal level.
"The new graduates demonstrated a lot of potential at our assessment day and I'm looking forward to seeing what their creative flair, passion and drive will bring to our team."
Commenting on the new additions to the company, Andrew Jackson, CEO of Intercity Technology, added: "We pride ourselves on world-class levels of customer service. Our latest recruits' eagerness to learn, alongside their understanding of our ethos and technology solutions across IT managed services and telecommunications, will enable us to maintain our close customer relationships and to grow our client portfolio in the public and private sectors."
In November 2015, InterCity Technology welcomed Imerja, a specialist IT service provider delivering technical, engineering, professional and support services, with customers in the public and private sectors. Imerja is also an N3 Aggregator, approved G-Cloud Supplier as well as ISO14001, ISO27001 and ISO9001 certified.
---
Trending Now
You may also like