Safyr accelerates Personal Data discovery for GDPR compliance
Last updated on: October 23, 2017,
Author: Editorial Team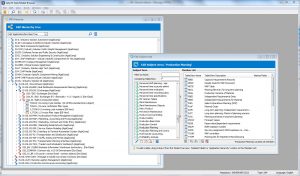 Silwood Technology Limited (Silwood) has launched a software-based solution, named Safyr® Version 7, that makes personal data discovery in ERP and CRM systems, for GDPR compliance, easier and quicker.
A fast, accurate and cost-effective software that provides accessible metadata intelligence for the most complex, customised ERP and CRM packages, including SAP and Oracle, Safyr enables users to identify sources of Personal Data for GDPR compliance in minutes.
Analysts, architects and other data professionals can now use Safyr to access, understand, share and utilise the underlying data structures. Finding the precise location of data defined as 'Personal' under GDPR from amongst the thousands of tables and columns (or fields) in customised systems represents a significant challenge, and traditional tools and methods, such as searching for documentation, using templates and reference models or employing external consultants, do not address the challenge in an effective or timely fashion.
With Safyr, however, this is now possible, as the software product now offers two new features in response to the need to identify all Personal Data held on an individual for GDPR compliance programs.
Marked Field – this feature addresses the problem of having large numbers of unwanted or irrelevant attributes in some tables. It enables users to easily isolate all instances of a particular term (e.g. "birth) across an entire system, and decide exactly which items of the metadata set are relevant and need to be retained.
The feature also enables the combination of several sets of Personal Data attributes into a single manageable grouping.
Metadata Reporting – has been introduced to support organisations that may not yet have embarked on the implementation of a Data Governance or Enterprise Metadata Management platform for GDPR. It provides them with the ability to export Safyr content directly to Excel to enable faster and more effective collation and management of Personal Data.
Nick Porter, Founder and Technical Director of Silwood Technology, comments: "We recognised the unique challenge associated with documenting where Personal Data fields or attributes exist in large complex packages, and have enhanced Safyr to make that process faster and easier. Safyr 7 will make a major contribution to our customers and partners GDPR compliance efforts."
Rob Perry, Vice President of Product Marketing at Silwood Technology Partner ASG Technologies, went on to say: "Complying with the GDPR requires that organizations  know what Personal Data is managed, where it came from and how it has been used. Silwood Technology's Safyr software has a unique ability to identify Personal Data used by the ERP and CRM systems on which many businesses depend.  ASG's Data Intelligence complements this by tracing Personal Data lineage, which is the key foundation to the Data Governance needed for GDPR compliance. Together the two solutions can reduce the risk of the large penalties that can result from non-compliance".
More details are available here: https://www.silwoodtechnology.com/safyr/safyr-7-supporting-gdpr/