Six Midlands companies among fastest-growing UK tech firms
Posted On September 9, 2016
---
In the 16th annual Sunday Times Hiscox Tech Track 100 league table ranking Britain's private TMT (technology, media and telecoms) companies with the fastest-growing sales, the Midlands has claimed six spots.
Among the six Midlands companies to make in onto an annual league table, there are a business which allows brands such as Apple and Spotify to instantly verify students, and the developer of racing game Forza Horizon and a medical technology provider made the grade.
The six Midlands companies, down from eight last year, include three new entrants. Their sales have grown by an average of 71 per cent a year over three years to a total of £84m, and together they now employ 640 staff.
A new entrant is Nottingham-based UNiDAYS, which allows brands to verify students across their web, app and in-store channels. The company says it has generated over £750m in revenue for its partners, helping drive its sales to £11m in 2016.
Also joining the league table is Playground Games, the studio behind the Forza Horizon racing game series. The Leamington Spa-based developer produces the games for Microsoft, which sells them on its Xbox and Windows 10 platforms.
The companies in the Midlands appear with businesses around the UK, including designer fashion website Farfetch, Scottish travel search engine Skyscanner, peer-to-peer lending platform Funding Circle and customer feedback service Feefo.
Steve Langan, chief executive of Hiscox Insurance Company, said: "The Sunday Times Hiscox Tech Track 100 never fails to impress and this year is no different. We are proud to be associated with it, not least as we support more than 40,000 technology companies across the UK and Ireland and see first-hand their tenacity and infectious ambition.
"Congratulations to all of the Midlands companies listed this year – the growth and innovation they demonstrate is highly commendable."
The six Midlands businesses are: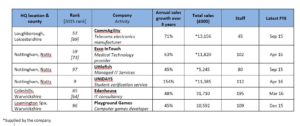 ---
Trending Now
You may also like