SOTI expands footprint in Solihull to support European growth
---
SOTI Inc., a provider of mobile and IoT device management solutions, has expanded its regional headquarters in Solihull, to capitalise on the company's growth.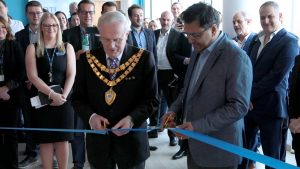 The move comes as part of a wider European expansion as more companies use business-critical mobility in core verticals, including retail, healthcare and field services. Fueled by the growth of the company's integrated platform, SOTI ONE, enterprises struggling to manage the chaos of connected devices, especially where mobility is critical to their business have taken stock. The SOTI ONE platform enables enterprises to maintain worker productivity, build applications faster, automate with business intelligence and manage mobile devices and IoT endpoints.
As traditional work and basic smartphone management continue to expand well beyond office environments, a new era of ubiquitous connectivity has marked SOTI's global expansion. Industry analyst, Ovum was quick to identify the value of the SOTI ONE platform and placed SOTI as a "Market Leader" in their 2017-2018 Decision Matrix to select an enterprise mobility management (EMM) solution. "SOTI is broadening its capabilities by embracing a platform approach to endpoint management, of which EMM is a fundamental element."
With the proliferation of intelligent endpoints surging within the enterprise, and traditional EMM market revenues predicted to nearly triple to $16.7 billion by 2021, SOTI's European expansion marks the company's next chapter in the region.
SOTI is expanding its UK office space from 8,000 square feet to 50,000 square feet – representing a 525% increase in the company's office footprint – continuing its recent growth trajectory to meet increasing industry demands. Building on a 20-year history, SOTI continues to grow globally and across EMEA, having celebrated its most profitable year last year, capping off 86 quarters of consecutive profitability. Revenue growth in Europe over the last three fiscal years is over 50%, with year-over-year revenue growth for the most recent fiscal year standing at 66%.
"This is an exciting time for SOTI. People are at the heart of everything we do, so investing in our workforce and giving talented people the platform to innovate, is a key priority for us," commented Carl Rodrigues, Founder and CEO of SOTI. "This new base in the West Midlands where business is growing faster than any other UK region, makes us ideally placed to respond to the market and establish a workforce for the future."
Councillor Stuart Davis, Mayor of Solihull, said: "The scale of investment coming into the West Midlands has rapidly gained momentum in recent years and Solihull is now renowned for attracting both global and UK based companies, with SOTI being the latest example. I am delighted that SOTI has decided to take advantage of the region's growing opportunities and look forward to seeing its journey continue."
The new West Midlands base also signals the company's commitment to nurturing the development of the local region's 'digital natives' in the months ahead. This demographic group is set to make up 75% of the workforce by 2025, and SOTI is committed to developing this talent by building partnerships with local schools and establishing a strong internal promotion programme to encourage retention and stability for local talent.
---
Trending Now
You may also like