Ticketing software firm expands with new appointments
---
Aldridge's ticketing software company Vennersys is targeting business growth with the appointment of three new members of its sales team.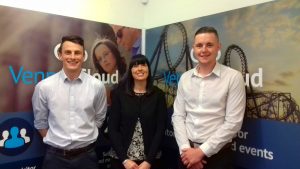 The company has undergone a 53% expansion in its team in the last two years, with entry into new markets including Scottish attractions and the heritage railway sector.
Luke Fletcher joins Vennersys as a business development executive, Joseph Paul, as a client account manager and Sharon Horton as a telesales executive, as the Aldridge company looks to expand its client base.
Business Development Manager at ticketing software company Vennersys, Martin Fallows, commented: "We're delighted that Sharon, Joseph and Luke have joined Vennersys as we're going through a period of sustained growth and change as a business – this is primarily down to our cloud-based product – which is going from strength to strength.
"Having helped guide and support our customers through their GDPR compliance issues, we're now improving our client experience even further with the development of walk through product videos and an iOS/Android format for users who need to access our software on the move."
Joseph will be supporting existing clients to ensure they are happy with the level of service Vennersys provides and utilising all the functionality the software has to offer.
He added: "At Vennersys there's a real passion to push the business in the right direction, and my aim is to meet all my clients every quarter to review their software needs and help provide solutions which support their business. Key to our success will be clients growth and the lessons learned will be shared across all of our clients."
Sharon has years of customer service experience having previously worked at the Jardine Motors Group where she worked in after sales. Her role is to contact all of existing customers and update their details in line with the recent GDPR regulations.
Vennersys offers a dedicated and secure ticketing system for visitor attractions, with Venpos Online enabling attractions to sell tickets, merchandise and experiences on the web, 24/7.
Markets served by Vennersys include historic houses and estates, museums and galleries, cultural and heritage sites, safari parks and aquariums, zoos and botanical gardens, farm attractions, children's play and activity centres, heritage railways and family entertainment centres.
---
Trending Now
You may also like