WarwickNet launches G.Fast ultrafast broadband service
Posted On October 18, 2017
---
WarwickNet has become the first alternative network ISP to launch a 500Mbps capable G.fast hybrid fibre "ultrafast broadband" service for businesses via their own street cabinets.
WarwickNet, which is based in the Midlands and part of the CableCom Group, has deployed the next-generation technology in Warwickshire, ahead of a wider roll-out across the country.
G.fast is a hybrid-fibre technology which delivers ultrafast broadband over copper lines, offering speeds similar to fibre-to-the-premises (FTTP), without the need to carry out costly and complex engineering works to replace existing infrastructure.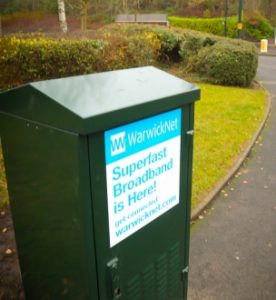 By deploying G.fast capability in its existing fibre street cabinets, WarwickNet is able to provide download speeds of up to around 500mbps for premises located within a few hundred metres of these cabinets, in turn helping many to transform business and productivity. This also allows the ISP to deliver G.fast in just two weeks, with minimal to no disruption.
WarwickNet is one of the first ISPs in the country to introduce G.fast, as part of its ongoing commitment to liberate industrial estates and business parks from poor connectivity.
Ben King, WarwickNet founder, said: "We're delighted to be leading the way nationally with G.fast implementation. Unlike the majority of other ISPs, we're not just waiting for Openreach to deploy their service to simply resell a service.
"It's a significant move for us WarwickNet to now be able to deploy this technology, offering businesses the ultimate intelligent interim solution until fibre has the same coverage as copper does today.
"We also like to think it is a testament to our dedication in helping the UK lead the way across Europe in superfast broadband technology."
In addition to the new G.fast technologies, WarwickNet already delivers fibre-to-the-cabinet (FTTC) and fibre-to-the-premises (FTTP) broadband, with businesses benefitting from speeds of up to 100 Mbit/s, uncontended Premium Internet Access with unlimited data transfer allowance, gigabit dedicated leased lines, as well as hosted voice over IP solutions.
The company has ambitious growth plans which will see it increase its offering from 180 to 750 business and science parks nationally over the next 12 to 18 months; opening up its infrastructure to allow other ISPs and ICT resellers to offer services underpinned by the WarwickNet network, and working with larger enterprises on a national scale, such as multi-site businesses.
---
Trending Now
You may also like