Xaar opens 3D printing business in Nottingham Science Park
---
Xaar, an inkjet business has opened 3D business in Nottingham, saying that talented graduates were one of the main reasons.
The company has moved into a 5,396 sq ft office at Units 5 and 6 on Nottingham Science Park in a deal brokered by Innes England.
Xaar says the move is part of a drive to double its turnover to £220m by 2020.
Neil Hopkinson, director of 3D printing for Xaar, said: "3D is an important part of Xaar's growth strategy. When considering a site for this part of our business we were keen to find an ideal location close to emerging talent. Universities in the region are training undergraduates in 3D printing, design and manufacturing, so Nottingham Science Park presented a big opportunity for us to tap into that group."
"We've invested heavily in renovating the new premises and look forward to working with more businesses across the Midlands as we begin to establish ourselves in this new market. It's really exciting to have a presence in Nottingham where many businesses are at the forefront of 3D printing practices."
Lorraine Baggs, head of Invest in Nottingham, said: "Invest in Nottingham worked closely with Xaar to support the choice of Nottingham as its new home, providing access to funding and site location support. Xaar is a great example of the kind of innovative business which will do well in Nottingham, thanks to the burgeoning technology scene here, local expertise and state of the art buildings available at the Nottingham Science Park."
Laura Jardine, surveyor at Innes England, said: "Companies like Xaar are exactly the type of businesses we want to
be welcoming at Nottingham Science Park. I'm pleased to have secured a long-term lease on behalf of Nottingham City Council and I'm confident the firm will benefit from the fantastic transport links and supply of graduates on offer here.
"Xaar now occupies units 5 and 6 of William Lee Buildings which has eight units in total. Units 3 and 4 are still available offering 2,200 – 5,512 square ft of commercial space for similar businesses and we are currently negotiating another offer on unit 8."
Councillor Jon Collins, l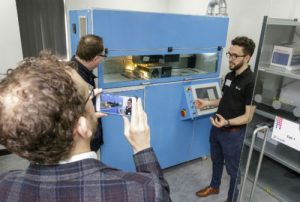 eader of Nottingham City Council and portfolio holder for
strategic regeneration, said: "Xaar's move to Nottingham is a welcome one and shows that Nottingham's investment in its infrastructure, students and facilities for growing companies is reaping rewards. Invest in Nottingham have done a great job of showing Xaar what we have to offer as a city and that they'll be in good company here, now and in the future.
"The units at Nottingham Science Park are already tenanted with some of the most pioneering companies in the region, and attracting an ambitious company like Xaar exemplifies what we're aspiring to as a city – a centre for sciences, innovation and growth."
---
Trending Now
You may also like