Midlands Engine signs MoU with US centre of research in cybersecurity
Last updated on: June 29, 2017,
Author: Editorial Team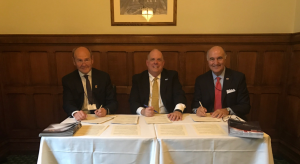 Sir John Peace of the Midlands Engine joined U.S. Governor Larry Hogan and the Maryland Department of Commerce to sign a Memorandum of Understanding (MOU) to strengthen the relationship between the Midlands region and Maryland, the centre of research and innovation in cybersecurity in the U.S.
The agreement, signed by Sir John Peace, Chairman of the Midlands Engine and Mike Gill, Maryland Commerce Secretary, is designed to promote economic development, assist cybersecurity companies in Maryland and the Midlands, and attract investments in each region. As part of the agreement, an exchange program has been developed, by which U.K. cyber companies will visit Maryland to explore the U.S. market and to establish or increase a presence in the U.S., and Maryland cyber companies will visit the Midlands region for similar purposes.
The signed Memorandum of Understanding follows the recent 5 day cyber business delegation from the U.S., between 5-9 June, where companies from Maryland visited the Midlands to learn more about the business opportunities currently available between the two regions.
Worcestershire Local Enterprise Partnership (LEP), Marches LEP and Skylon Park Hereford Enterprise Zone hosted the return mission from Baltimore, Maryland in partnership with the Department for International Trade and Herefordshire & Worcestershire Chamber of Commerce. The delegation formed part of a programme of trade & investment missions between the Midlands and Maryland, U.S. scheduled to run 2016-18.
Sir John Peace, Chair of the Midlands Engine, said: "I'm delighted that we have signed this Memorandum of Understanding with Maryland, an internationally recognised cyber-security leader, with the world's largest concentrations of cyber security companies. This builds on the successful CyberMaryland Conference in 2016 and a reciprocal visit earlier this month, where companies from across the Midlands and Maryland forged mutually beneficial partnerships. The MOU will further business development opportunities between the two regions and build relationships to grow our internationally-renowned cyber-locations."
Larry Hogan, US Governor, added: "Today's agreement with Midlands Engine will foster economic development, build our cybersecurity sectors, and spur economic growth in both the U.S. and the U.K. This exciting partnership will open up markets and opportunities for our cyber companies, allow cyber experts to share information and technologies, and further cement Maryland's standing as the cybersecurity capital of America."
Mike Gill, Secretary, Department of Commerce Maryland, added: "This partnership brings together two of the world's strongest allies in the fight against cyber crime – Maryland and Midlands. Together, our cyber communities will collaborate on cyber issues, share ideas, and develop new technologies to address the most serious cyber threats our nations and our world face. For cybersecurity companies on both sides of the Atlantic Ocean, the MOU opens new avenues for our cyber companies to expand to international markets."
For further information on the Midlands Engine's cyber sector visit the Midlands Engine Cyber website, www.midlandsenginecyber.uk
Businesses can also stay up to date with the Midlands Engine's cyber sector by following @MidlandsCyber on Twitter and by using #MidlandsCyber